A couple of weeks ago, Dick Eastman posted an excellent article with the same title. It received over 70 comments, including a couple of mine.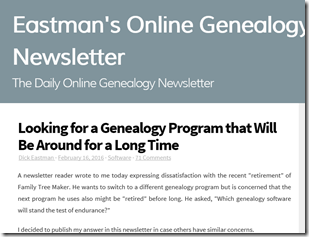 During the just completed Unlock The Past genealogy cruise, we had a panel discussion on a similar topic: Future Proofing Your Genealogy. Helen Smith coordinated a very lively (but friendly) disagreement between Paul Blake, Jan Gow, Judy Russell, Shauna Hicks and me about the best way to do so.
Dick's article, the comments, and our panel brought up a number important topics of relevance to genealogists today that I found I have strong opinion about.
1. Many of the comments to Dick Eastman's posts were about choosing a specific program. In the light of the end of Personal Ancestral File and The Master Genealogist and the near demise of Family Tree Maker, is any program really safe to use?
I agree with Dick's conclusion, which is: "When looking for a new program for any purpose, find one you like and use it. However, never lock yourself in. Always have an exit plan in mind"
The exit plan to me for genealogy software currently is GEDCOM. Yes, many programs export GEDCOM imperfectly, and many import it imperfectly as well. But most of the data is there in some form and is retrievable. Bug the developers to make sure the data is exported properly and completely. If some data isn't exported, don't use that feature until there is another way of retrieving it, e.g. through a direct database read, plugins, or an API (Application Programming Interface) allowing access from other programs that use the API.
2. Genealogical software is not the be-all and end-all for your data. What is more important is your source data. You are sourcing all your data, aren't you? Even if the names, facts, dates and places get trashed with your genealogy software or a hardware failure, you or someone else can always recreate them if the sources are available.
3. The way to future proof your genealogy, as I see it, is through replication. Make your work available in as many forms as possible. In Perth Australia a couple of days ago, the Bell Tower had a time capsule of DVDs to be opened in 2100. My thought was that I hope they supply the DVD player, spare parts, and the computer to play it on in the time capsule, or they may not be able to play it. Even then they might not if electricity advances to see the end of 240 volt power. Paper stored properly is thought by some to be better than hard disk, DVDs, PDFs or any digital format, but is not necessarily so. Paper is subject to fire, flood, theft and the worst: unknowingly or mistakenly being trashed especially by your child or grandchild who may not realize what they have done until it is too late.
So I see the solution is to replicate your work and source material in as many forms as possible. Make copies, digitize, backup, distribute to family and archives, self publish, add to online databases, put it on your own website, post stories and your research findings in a blog, donate to archives and name some interested party in your will to acquire what you leave. To me, it is the magic of  replication through the internet and through physical copies that provides the best assurances that your work will be remembered and used.