I was surprised to run across a new "beta" site by accident today. It's called Find The Best (Twitter: @Find_The_Best), and it's a new product rating site designed to review just about anything. Their categories range from Arts & Entertainment to Technology.

But what most surprised me was that I happened to run across them doing a genealogy related search on Google. This led me to their Genealogy and Family Tree Software page.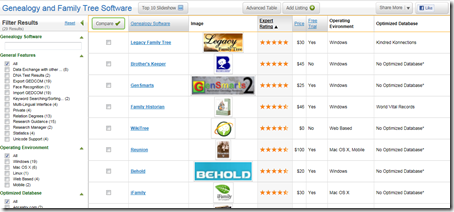 It was a very interesting review page, quite customized for genealogy software which someone had definitely put a lot of thought into designing. 29 programs are listed as, as you can see above, Behold was one of them.
The programs are classified by General Features, Operating Environment, Optimized Database, Display and View Features, Reports and Charts, and Data Entry. Each one is given an Expert Rating which "is a weighted average of the following sources: CNET, GenSoftReviews.com, MyMac.com and Family Tree Magazine." They show the price, and whether a free trial is available.
Click on one of the programs and it takes you to that program's page: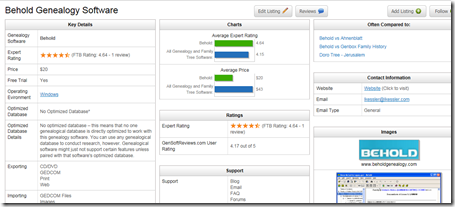 There you see details, features, a couple of charts, ratings, support, comparisons, contact info, and a screenshot.
The other view that is interesting is the comparison, where you can compare a large number of programs on one page: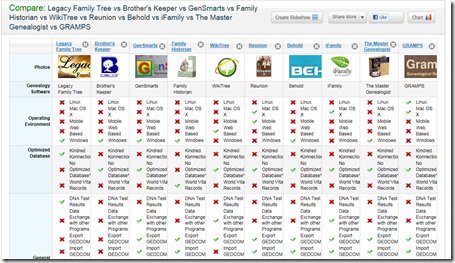 The site also accepts user reviews and ratings, although the site is so new, you won't find many yet in their genealogy category.
There is one other genealogy-related category at FindTheBest, and that is for Genealogy Databases, and FTB currently lists 11 of them. They are not rated, but are instead ordered by "market share", which FTB defines as visitors per month, with Ancestry.com being the overwhelming leader there at 59%.
The other very interesting thing about this site, is that it is very Wiki-like. It is designed for user input. You can create a free FindTheBest account, and then you can actually edit the listings or add new listings. FindTheBest moderates the edited and added listings to prevent spam and affiliate advertising, so it may take up to 24 to 48 hours for your changes to appear.
Also like a Wiki, there is also a small link at the bottom of each program page saying "History". Click on that and you can see who did what in adding and editing each page. It seems that the genealogy pages were added by user eschessler, who appears to be Eric Schessler, an employee of FindTheBest.com. Eric must have an interest in genealogy.
I was somewhat surprised that Behold was included among the initial 29 programs included, but I'm not complaining. The listing gives Behold credit for a few features that it doesn't have, and leaves out a few that Behold does, but overall Eric did a great job setting all this up and seeding the data with the first 29 programs. That must have been a lot of work.
I'm also pleased that FindTheBest considers my GenSoftReviews site one of the "expert" sites it uses for its FTB expert rating.
---
Additional info: FindTheBest was founded in May 2009. The Genealogy pages were put up in January and February 2011. Here's an article from Feb 2011:
"FindTheBest Looks Like a Winner"
. The big take-away from that article is that the FindTheBest employees like playing Ultimate.