Further adventures in the attempt to rediscover the long lost early GEDCOM standards have once again come up with something significant.
You may or may not remember that just over a year ago, I started this venture:
Well, I never did get the copies of GEDCOM 3.0 or 5.0 from Brian Madsen. I did email him back a couple of times without a response, so I decided not to bother him any more.
But a couple of weeks ago, I had noticed that there is still activity on the mailing list for LINES-L, which was a mailing list for Tom Wetmore's LifeLines program. That mailing list has been around for a long time, and I realized the people on the list would have been technical genealogical old-timers, people who might have seen some of those early GEDCOM standards.
So a week ago I posted a query on the LINES-L list. I got a response from Peter Glassenbury of New Zealand who sent me GEDCOM 5.0, and is the person to be credited as the "retriever" of this relic.
What he sent me was this text file of GEDCOM 5.0. I'm sure Tamura Jones will add this to his FamilySearch GEDCOM Specifications page so that it will be available to everyone.
A comparison of this version 5.0 text file with the versoin 5.3 text file is very interesting. You can see that the GEDCOM was evolving from version to version: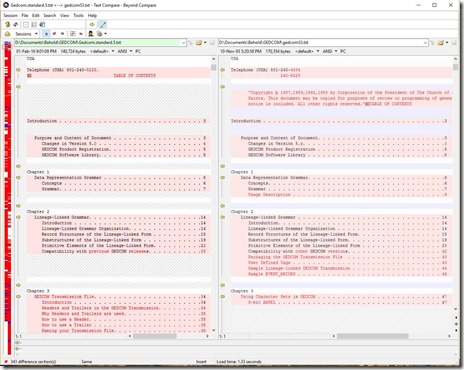 There was a 5.1 and 5.2 (both were drafts) in-between 5.0 and 5.3 (which were also both drafts). Obtaining 5.1 and 5.2 would allow seeing the changes in smaller steps and that would make the conceptual differences between versions more understandable. Anyone who works on a future replacement of GEDCOM should study these concepts so to understand the well-thought out reasoning why some constructs were added and others were removed from each version.
We're still looking for the following GEDCOM versions:
1.0 (1984)
2.0 (Dec 1985) PAF 2.0
2.3 Draft (7 August 1985) with PAF 2.0 GEDCOM implementation
2.4 Draft (13 December 1985) with PAF2.0 GEDCOM implementation
2.1 (Feb 1987) GEDCOM for PAF 2.1
3.0 Standard (9 October 1987)
PAF 2.0 and 2.1 implementation of 3.0 (8 June 1988)
4.1 Draft
4.2 Draft (25 January 1990)
5.1 Draft (18 September 1992)
5.2 Draft (2 June 1993)
If anyone has any of the above, we would really appreciate if you could scan them and contribute them for the main purpose of preservation of the history of GEDCOM and to allow the study of the development of GEDCOM.