GenSoftReviews reached a milestone and now has 1000 different genealogy programs listed at the site.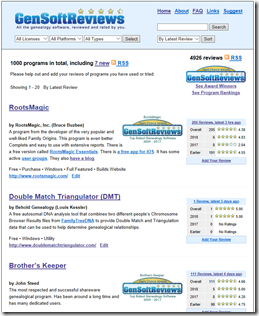 The numbers have been creeping up over time. GenSoftReviews started in Sept 2008 with the 355 programs I transferred over from my my old genealogy software links page. The number grew to 466 by the end of 2009.  556 for 2010, 595 for 2011, 702 for 2012, 765 for 2013, 862 for 2014, 936 for 2015, 980 for 2016, and 992 at the end of 2017.
I'm always on the lookout for new programs that can be considered to have a genealogy aspect to them. There are a number of people who suggest new programs to me from time to time, which I'm very appreciative of. If the program is active and supported and it's not already on GenSoftReviews, I add it. If you know of any current programs not on GenSoftReviews, please let me know.
Early on, I used to delete programs from GenSoftReviews that no longer were available. But now I just mark those programs as "unsupported" and point their web address to an archive.org snapshot of what their site was, or to some other information about the program that's still on the web. Many unsupported programs still have active users as well as reviews on GenSoftReviews, including such programs as Family Tree Maker by Ancestry, The Master Genealogist (TMG) and Personal Ancestral File (PAF).
As genealogy software expert Tamura Jones tweeted:
#genealogy #software One Thousand different genealogy programs listed at GenSoftReviews. How many have you tried? https://t.co/hVXqp9b9jF

— Tamura Jones (@TamuraJones) February 17, 2018
That's an excellent question. There are a lot of hardworking developers out there who have created programs with their own ideas of what's needed to help a genealogist. They all deserve a look at. Taking Tamura's question a step further, I'd ask: "How many have you even heard of?"
Here's a breakdown of the 1000 programs:
466 Windows programs
116 Mac programs
105 Unix programs
132 handheld programs (phones or tablets)
389 online programs
These total 1208 because some programs run on multiple platforms.
355 full featured programs that can edit and save your genealogy data.
404 utility programs that read in genealogy data and do something with it.
233 auxiliary programs that do some genealogical task for you.
Hmm. These total 992 and should total 1000. I'll have to find the 8 unclassified.
627 free programs
287 programs you have to purchase to use.
65 programs you have to pay a subscription to use.
71 programs that are unsupported.
This totals 1050 because some programs have both free and purchase versions.
The 1000 programs as I write this have acquired 4926 user reviews, or an average of about 5 reviews per program. The top 10 are:
560 reviews: Family Tree Maker 2008 – 2014
474 reviews: My Heritage
343 reviews: Family Tree Builder
223 reviews: Ahnenblatt
205 reviews: RootsMagic
200 reviews: Geni
185 reviews: WikiTree
173 reviews: Legacy Family Tree
150 reviews: The Next Generation (TNG)
147 reviews: The Master Genealogist (TMG)
These top 10 make up 2660 or 54% of all the reviews.
270 (27%) of the 1000 programs have had at least 1 review. So that means 730 which is 73% have not had any reviews yet. What uncommon genealogy software do you use? Does it have a review at GenSoftReviews yet? If not, why not consider adding your review?
55 programs have had at least 10 reviews which is the minimum needed to qualify for a GenSoftReviews Users Choice award at the end of the year.  Of those, 39 have been a winner of the award at least once. That means they had averaged a rating of at least 4 stars out of 5 from their users.
Next time you wonder if there's a genealogy program out there that might be able to help you do something a little easier, why not take a browse through the 1000 programs listed at GenSoftReviews. You might just find the gem you've been looking for.