My phone app says today would be my 95th day of working on Behold since I came back very motivated from Gaenovium. I've tried to put at least some work into Behold each day, and I likely missed fewer than 10 days over that time. I put in a significant amount of work (sometimes staying up until 2 a.m.) at least half of those days.
I was really hoping to get version 1.1 out this month (January). But my wife and I will be leaving in a couple of days on our first-ever winter getaway holiday together that's not to a conference and not with our kids.
Behold version 1.1 is close. You can see on the Behold Future Plans page that I'm finishing up the last couple of items of 1.1. The documentation is important since this is not a beta version and documentation needs to be updated at major changes. Besides, running through and updating all the documentation is an excellent check that usually uncovers a few problems that can be fixed before the release, so I consider it a necessity.
My wife and I won't get back until February, so 1.1 now has a February expected release. I promise it will be worth the wait. And my momentum and motivation should carry me forward to get to the next versions soon after.
Here's a teaser of what we're looking at: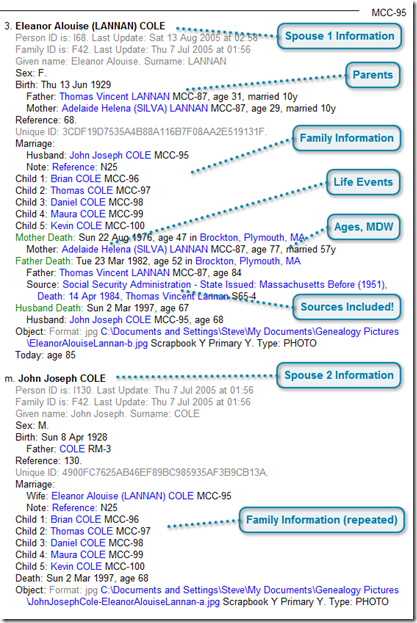 We now have Spouse 1 and Spouse 2 information. The family information is no longer separate but is merged into each spouse. The difference is that the family information will be from that spouse's point of view.
Same goes for the Life Events, which are shown in green. "Life Events" are the relevant events of the parents, spouses/partners and children of each individual, and the actual implementation of these is what has taken all this time since the last release.
There are quite a few programs now that show you a timeline view of an individual. I've come to realize that this is the best way to view your information. It puts the person's life in context and allows you to make inferences about what happened to them.
Most programs that include timeline views include event information, the event date and place and some have the age of the person at the time. A few also include some of the parent, spouse and child events. Excellent!
But they cannot be set up to show all the relevant information you want to see all at once because they are usually a table in a fixed format. Behold's Everything Report can show much more of what's relevant, including the age and years of marriage of the relative, as well as all the notes and sources associated with the Life Events. Clicking icons to see those one-by-one just doesn't do it.
For fun, take a look at my first mockup of what I thought this might look like. That was a contrived template I put together of what I hoped I'd build. It looks similar because I used it as a model to follow. What we've got now is actual working output, almost ready for release.
That was also over 2 and a half years ago. Wow! I wrote many blog posts over that time about some of my struggles to get Life Events implemented just right. I originally included just about every relative imaginable, but realized recently that more is not necessarily better, and the less relevant information about non-immediate relatives simply overwhelms and hides the important information - which is why it's back to just parents, spouses/partners and children. The same goes for my Who's Alive display. That was conceptually a good idea, but once I started implementing it, I saw that it did not add enough useful information to cancel out the added irrelevant noise. That made the report less useful, so it had to go.
So the last two years have been a roller coaster of development. It is not always clear what you're going to get when you start. What is necessary is the right idea, which Life Events are. The implementation is more like following the yellow brick road with many obstacles. But finally Kansas is close.
I will be taking my new Lumia 930 Windows Phone with me and I should have access to respond to emails, follow the world's genealogical happenings as I usually do, and Tweet and/or Google+ a bit. Maybe I'll even add a few blog posts. But I'm really looking forward to this recharge, and then releasing 1.1 after I'm back.