I think I've got it right this time. Life Events have been cut down to include only the really relevant events that will be important in your research.
Children and parent birth, marriage and death events are important. Siblings are as well until the person of interest gets married. Half-family, stepfamily and adoptions are displayed as they should be. Too many programs make it hard to see what's going on between half and stepfamily. These were very tricky relationships to set up. I think I got it all correct, but let me know if something doesn't seem right.
I am quite pleased with two sets of information that Behold now presents that few other programs do. I think they are both valuable for research:
Survived By / Predeceased By
For each person who has died with a known death date, there's a "survived by" and "predeceased by" section designed to present the names somewhat like they would be presented in an obituary. If you have the obituary, you can check it with this list to see if it matches, and update or correct your genealogy data so that this information does match.

Current Relatives
If the person is still living, the report will show a list of all the close relatives of that person with you ages and length of marriage if possible. You can use this list to call the person up and intelligently ask them how everyone's doing, and verify with them that the information is still correct.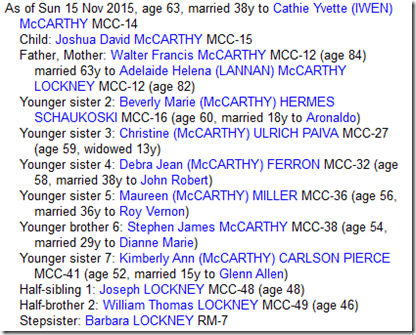 There are still a few niggling things to fix up, and I saw them as I made up some screenshots. I'll get those right as I prepare an update to the User Guide which I'll release very soon along with what will be Version 1.2.1. 
If you find any problems with the new version, or have some simple suggestions that I can squeeze into Version 1.2.1, please let me know.
But the bottom line is, hopefully you'll like this version much better than 1.1.
You can upgrade to Version 1.2 from within your current version of Behold. Go to the menu and select Help –> Check Online for New Version.  Or you can download it from the Behold download page.