Ryan Heaton: GEDCOM X at RootsTech 2012
These are the exact notes I took during Ryan's two GEDCOM X talks.
Also included are photos I took for my own reference (please don't distribute them further). Click on them to get larger versions.
First session: "A New GEDCOM: Project Scope, Goals, and Governance"
Shout out to legacy GEDCOM. It's time to move on now. We need a new standard.
We want it adopted. We want DEEP adoption. Need a common vocabulary.
Open source parser. Open source user apps.
Community ownership.
"Nobody is as smart as everybody." Everybody brings their own expertise and experience.
A standard takes time to get infused into community AND a lot of expertise.
"Running code" always wins. No matter how cool your idea is, it has no weight until it is out there in use.
Technologies used in a standard need to be widely used already and have stood the test of time.
Need integration points with other standards (e.g. Name authority, place authority)
Need rich documentation.
GEDCOM X - working on it for the past year.
We're headed there. We're not there yet.
A vision: Extract the little pieces of data that are on the images. They are mini-trees. Trace them through the process back down to the original source.
Open source java code to write out a GEDCOM X file.
More choices are needed. Should be able to choose which you want, e.g. XML and JSON, or RDF.
XML and JSON is already integrated into FamilySearch products.
The project to date has been all FamilySearch's doing. We now need your help.
This is the first step. An invitation to start.
Tim Cross is the project manager over Ryan.
Question to Ryan: How fully defined and stable is it currently. Answer: The model is more stable than Restful APIs.
FamilySearch is committed to see this through.
All issues with the model should be discussed in Github. They will be addressed and answered there.
Expecting to open this up soon, but not yet fully staffed. Be patient!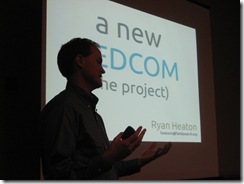 Ryan at first session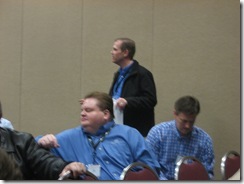 Ryan's project manager: Tim Cross
Second session: "A New GEDCOM: Tools, Syntax and Semantics"
GEDCOM X - The guts: Multilevel conclusions. The point of GEDCOM X is to enable this process.
Record model. Conclusion Model. The Materials.
RDF, XML, JSON, Dublin Core (for source citation terminology)
FOAF describes users of the system
HTTP - part of the API specs
REST - Representational State Transform
Atom - Standard for providing feeds
Also a standard for providing search results.
Common model - common to all models. Formal value is for normalisation and standardisation (e.g. data)
Record model - persona is the capture of the data of a single person in a specific record (no conclusions).
Field - 3 value types: original, interpreted, formal
Not in yet: group list of resources linked to people.
Not including the notion of a family. That is very difficult.
We want to model and meet the special cases that people bring in.
The metadata is simply a Dublin Core description.
File format.
Enable a tower of conclusions. It's never been done like this before.
Extensibility - how much to allow? This still needs to be decided.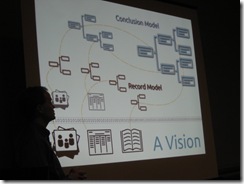 Second Session: The Vision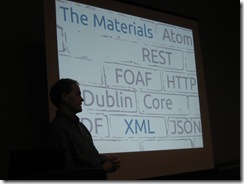 The Materials.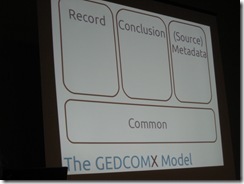 The Model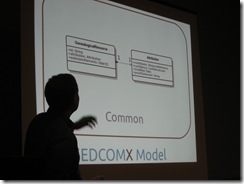 Parts of the Common Model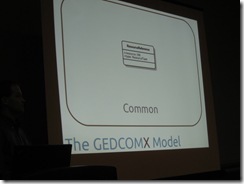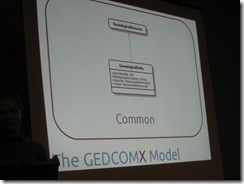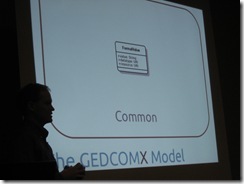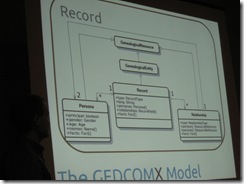 Parts of the Record Model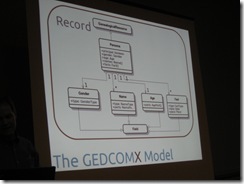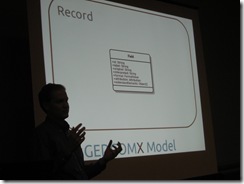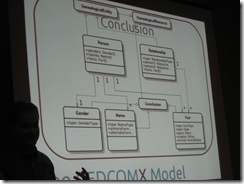 Parts of the Conclusion Model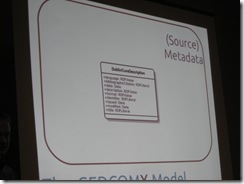 Parts of the Metadata model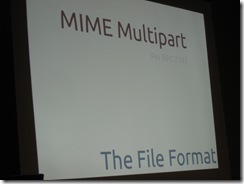 File Format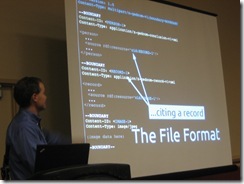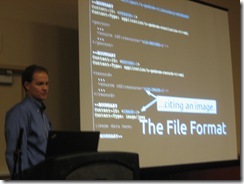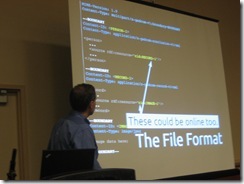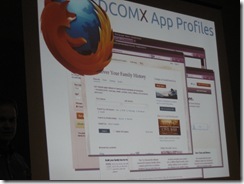 App Profiles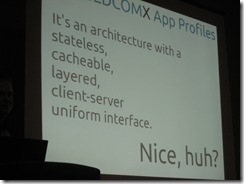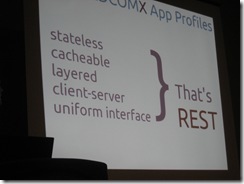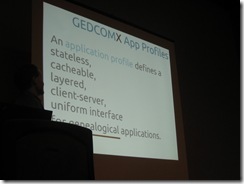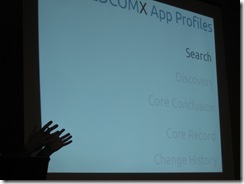 Also see
this GEDCOM X discussion on the GRAMPS forum