As good as yesterday was, today was even better at #RootsTech.
I didn't expect much from the Keynote speaker Josh Coates. He was to talk about cloud computing. But from the moment he made his somewhat preemptive entrance, he was enthralling. The humor and the manner of his presentation was perfect. I'd like my daughters to watch this. It might even be something that they might watch to the end. It says he's a BYU prof. Lucky students.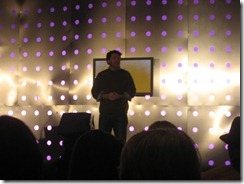 Ancestry Insider has a great review of Josh's talk.
The winners of the Developer Challenge were then announced.
From there I went to Dovy Paukstys's HTML5 and Ajax talk. The title of the talk seemed to indicate a tutorial in how to use HTML5 and Ajax. But I knew Dovy wouldn't do that and he didn't let me down with his exciting talk on how to make the most out of HTML5 and why you need it. He gave a tremendous set of "what to do's" that I am definitely going to look into. Just take a look at what HTML5 can do. Part of the idea was to use HTML5 in your applications, but Behold is a desktop application, so I'm really interested in where it might help my websites. Excellent marketing hints were an added bonus.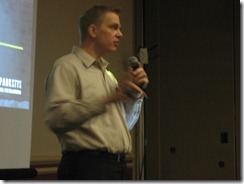 Next was Robert Raymond with "Citation Principals for Tech Creators". The talk was exactly the information I was hoping to hear. He confirmed and clarified my current thinking about how citations should be displayed. One interesting point he stressed that I didn't know was that Evidence Explained is the only citation style that has derivatives (source of the source). Behold already has that programmed in. In Behold, you can have a link in a source to another source. That is possible and easy because Behold displays the source details with the source. I have tested it and it works. I thought I saw a few GEDCOMs that have it, but I can't recall. At any rate, that will be a capability in Behold when editing is added in Version 2.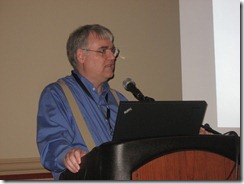 Noon hour came, and it was time for lunch and then the "poster demos" for the BYU Family History Technology Workshop being held at the RootsTech conference. This was mostly BYU people with posters about something genealogical and technological set up on easels, such as the following:
I never knew Cemetery Headstones were noisy.
Meanwhile, adjacent to the easels were tables where many of the Developer Challenge participants were set up with their computers, myself included, making ourselves available for one-on-one demos. This was the only part of the day that disappointed me, because it was crowded and those milling around were more attracted to the easels than the tables which were lower down. Over 40 minutes, I only had two people come for 5 minute demos, but they were both suitably impressed.That at least was a good warmup for my demo on Saturday in the Exhibit hall (reminder: at 12:30). But I would sooner have gone to the FSISO meeting, which I missed because it was rescheduled to the same time.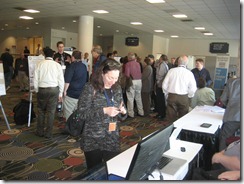 I did manage to have a nice conversation though with Brooke Ganz who developed LeafSeek and came 2nd in the Developer Challenge.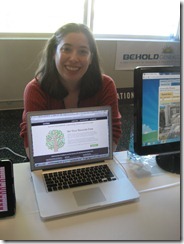 In the afternoon was Ron Tanner and Joe Martel and their Report Card for the Genealogy Software Industry. They developed a Genealogical Workflow by studying dozens of genealogists and seeing what they do right and wrong. Then they evaluated how various genealogy programs did at the various parts of the workflow. The best product got 2.8 out of 4. The average was 1.4 out of 4. That constitutes a mark of D. They rated their own PAF at only 0.4 (fail) and new FamilySearch at 1.4 (average).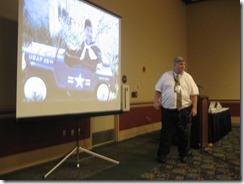 This was a superb analysis, but it was their Genealogical Workflow that I really loved. They challenged developers to rate their software and to try to improve them. I see this workflow as an excellent way to judge the worth of all future enhancements to Behold. If it contributes to the workflow in the things Behold is designed to do, then I'll do it. Otherwise, why bother?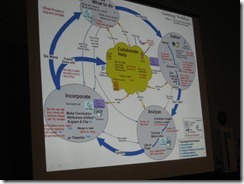 One quote from Ron in response to a question: "Genealogists never make mistakes. … Well they never admit mistakes.Just change the data quietly. Make up a new source."
Yesterday, I only saw a third of the exhibit hall, I now had an hour free and that let me see another third.
At 4:15 was the "Sources, Citations, Metadata" panel moderated by Ancestry Insider, I was on the panel with Ryan Heaton (FamilySearch), Robert Gardner (Google.com), John Vilburn (Real-time Collaboration), Dallan Quass (weRelate.org), Bruce Buzbee (RootsMagic) and Robert Burkhead (FHISO).
Before it started, I heard some wonderful stories from Jim Raleigh, who was the chief engineer for mission control during the moon landings. I was 13 years old when man landed on the moon, and that made me forever fascinated in space, astronomy and the space program. I might have even become an astronomer if I wasn't (at the time) afraid of the dark. I encouraged James to get a biography made with his stories – they need to be remembered. If not, make sure he records them for his grandkids and great-grandkids.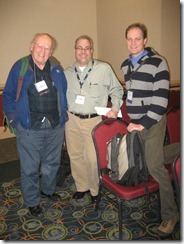 The discussion forum went very well. The room was quite full and there were lots of questions. I was surprised when I mentioned that I planned to implement source-based genealogy data entry and it resulted in a significant amount of applause. I will have to move that up a step in importance in my future plans.
At the end of the panel, Russ Worthington, one of the originals of BetterGEDCOM made his way over to us, and we all had a nice talk.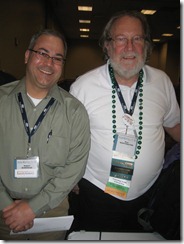 It was now 6 p.m. and time to head over to the Family History Library that was staying open until midnight for RootsTech. I was there once, back in 1980 for one day. But this time, something seemed wrong. I guessed my directions got mixed up because I thought it was on the other side of the street when I was here last. To my surprise later in the evening, one of the employees told me the library was moved in the late 80's to this location from across the street.
The Family History Library was packed with all us RootsTech-ers, but its 5 floors were enough to handle us. I couldn't go without doing something, so I picked my Kessler/Katkow line (2 people) from Saskatchewan who I know almost nothing about. There was nothing there … except a book written in 1910 by a person who lived in the area that I knew of that might contain something of interest. I took digital photos of all the book's pages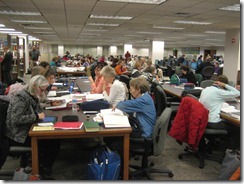 There was not much action in the Canadian section on the 3rd floor.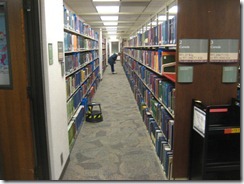 In a board room on the 3rd floor, Thomas MacEntee, Dear Myrtle and Jill Ball were hosting a session of Geneabloggers live radio and doing interviews with some of the attendees and organizers.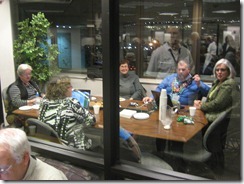 I also got to meet Christine_E at the library – the last BetterGEDCOM person at the conference that I hadn't yet met. I also got to see Jan Gow again – my Behold user from New Zealand.
To add to the great news for the day, Tamura Jones just posted his review of version 1.0 of Behold. Tamura is a superb evaluator of the technical quality of software and doesn't hold anything back. His review of Behold is as good as it gets, and in his conclusion, he has this interesting statement:
I do not recommend buying Behold 1.0, nor waiting for Behold 2.0, but looking out for version 1.5. Behold 1.5 will still sell for the same price as Behold 1.0, but promises to offer a killer feature. Behold 1.5 will include GEDCOM export, and if the quality of the exported GEDCOM is as high as promised, its flexible GEDCOM import and quality GEDCOM export will combine to make Behold a must-have GEDCOM to GEDCOM conversion utility.
A long but great day. I got back to my hotel at 12 midnight to write this post.
More tomorrow.