The first real day at #RootsTech and it was chock full of stuff. So this will be a somewhat longer post.
The day started with the Keynote by Jay Verkler. I won't talk about what he said because it was all live streamed, so those of you who are interested can see it. But I should say I was much more impressed than I expected to be. They made it interesting, amusing and though provoking. They definitely have vision. If that can be carried forward even though Jay's leaving the helm, then it will be very good for the genealogy community. But it will take time and there's a lot of work involved. If so, Emma from the future year of 2060 will benefit
I sat right behind the "VIP" section, mainly because I like to be as close as possible because it's easier to see, hear and get involved. Many of the notable people in the genealogy community were there. In the pic below, you'll see Dear Myrtle, Dick Eastman and Curt Witcher among others.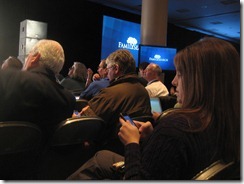 Following the Keynote, I briefly met and talked with some of the geneabloggers I knew from mutual blog commenting, including Geniaus (Jill Ball from Australia), Dear Myrtle, Randy Seaver (Mr. Myrt took a pic of her, Randy and me) and Dick Eastman. I'll be giving away a free lifetime licence for Behold at Dick Eastman's lunch on Saturday night.
Then it was off to the Expo hall. I only had an hour and there was too much and too many people to see. Some will wait until tomorrow. But I took pics of many of the vendors' booths.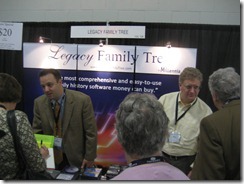 I finally met Luc Comeau (above right) of Legacy Family Tree. He and I emailed when he was still back in Nova Scotia working on GenViewer. His program, like Behold, was programmed in Delphi. I asked him the secret as to why his program reads GEDCOMs so blazingly fast … and he told me.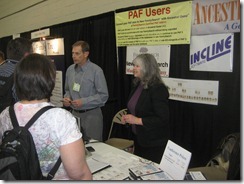 I talked to Gaylon Findlay of Ancestral Quest, and congratulated him on Ancestral Quest getting the highest rating of all programs in the GenSoftReviews User Choice Awards last year. To me that's an amazing feat – that he's kept his program usable and liked since he first built it almost 20 years ago. The very popular PAF was based on an early version of Ancestral Quest.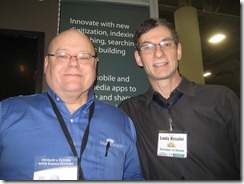 I met and talked to Gordon Clarke, who was a hard man to track down because he was so busy in charge of much of RootsTech. That's Gordon and me.
And two of my three Behold users I knew were going to be at RootsTech found me. Jan Gow who came up from New Zealand for the Conference.and Bart Brenner who was with his son. Below is me with Jan Gow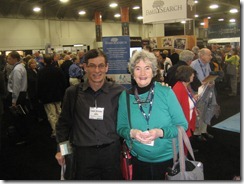 Next up was the talk on FamilySearch's new GEDCOM. This was where three of the BetterGEDCOMers would be gathering for the first time. Below are Robert Burkhead, me and Wesley Johnston. Dear Myrtle would be joining us later and we still have to get together with Russ Worthington and the mysterious Christine_E. The two of you better find us.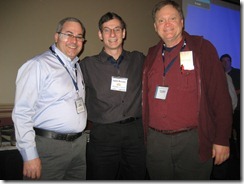 Ryan Heaton's New GEDCOM talk was very interesting. They are really trying to do it and they want community input. They have been working a year and have code and a design available, but also have a ways to go. I took a lot of notes. I told Ryan I need 15 minutes with him because I want to go over their plans for "levels of conclusions" and persona. Ryan gave two talks. One an intro before lunch, and the 2nd was more detailed getting into the model after lunch.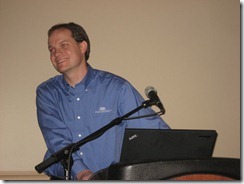 This was the key slide (the Vision) of Ryan's 2nd talk: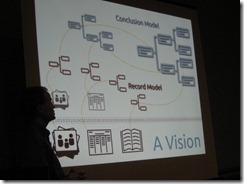 I had a nice lunch with Robert. I also got to talk to a number of people I didn't know while I was at lunch and at other random times. They'd see my name badge and ask what's Behold. I'd say it's a genealogy program. They'd ask what does it do. I tried to explain the concept. But Behold's simple idea (output-based, no forms) is so foreign to everyone because there's never been anything else but forms-based that they can't conceptualize it. I don't know what I can do to make that easier. Same with the idea of using source-based data entry rather than people-based. But for the few that did get it, they were quite impressed. One who didn't understand did say that she loved my enthusiasm. I'll keep experimenting and see what I can do to express the concepts better. Other than my two users, I did not find one non-developer here at RootsTech who had heard about Behold. I'll have to get some viral marketing going … but I'm not in a real rush. It can wait until Version 2.
Just before Ryan's 2nd session, I squeezed in the first half of Gilad Japhet's demo on My Heritage's Super Search Engine that they were announcing.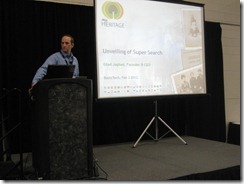 After Ryan's session, I heard Steve Morse explain his site for creating his one-step search tools. This was a refreshing change. Steve's laid-back style exemplified his knack for taking something tedious to program and making a simple front end for it. I can see ways I could use his tool to easily set up an online search tool for my local genealogy society's cemetery photos.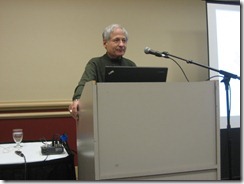 Then I went to hear Daniel Horowitz talk about MyHeritage's Family Graph API. Ultimately, I love the games and small apps MyHeritage is asking developers to build. These include things like Memory game (turn over pics of your ancestors to match two at a time), calendars (with pics of birthday, anniversary people), trivia (guess who's oldest, guess who has most kids), puzzle (put the tree back together with the right people).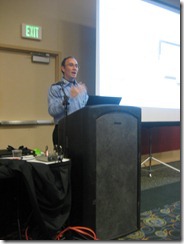 I went from there to catch the end of a Family Memories discussion panel moderated by Gordon Clarke.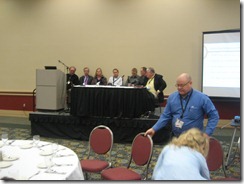 Following that, I got to spend some time with Dovy Paukstys of Real-Time Collaboration, who are developing AncestorSync. I've had many conversations with Dovy over the past six months and I love talking to him. He reminds me of myself 25 years ago. Below is Dovy with Gordon Clarke.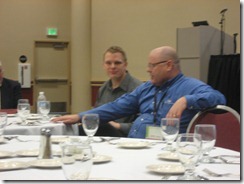 I can eventually see Behold importing the data from all the various sources, including the new GEDCOM (i.e. FamilySearch), MyHeritage, and these and maybe others and exporting back as well by using AncestorSync. Behold can already import any version of what I call "Extended GEDCOM" and Version 1.5 will be able to export valid GEDCOM 5.5.1. So that would be a way to get any old GEDCOM loaded up to another system, or another system loaded down into valid GEDCOM 5.5.1, or for that matter, displayed usefully in Behold's Everything Report.
The evening had the headline comedian. The best jokes of the night included:
"I'm not a fan of Facebook. It's just Internet crack."
"I don't know who decided to put genealogists and tech people together at the same conference. There seems to be an age gap. Have you noticed too?"
"I went to this hotel and asked for a wake up call. In the morning, the phone rang and said 'You make $18,000 a month and you haven't had a date in months."
"Technology is so great. That's why you're here … Well that's why half of you are here."
Long day. It was a good day. Lots more tomorrow. Good night.