I'm now in Salt Lake City for #RootsTech 2012. The city is flat but there are beautiful mountains surrounding it and d'ere's snow in d'em d'ere hills. But no snow in the city. The downtown streets are all very wide – 3 to 4 lanes each plus a parking lane – sometimes with diagonal parking - and the blocks are long. They have light rail trains on their main drag. The airport is 3 times the size of Winnipeg's. Likewise the Salt Palace (their convention center), is 3 times the size of Winnipeg's.
I went to the Palace to check out the rooms in advance, pick up my registration package, and see if there's anyone I know. The registration area had about a dozen volunteers working there. 
The registration package included a very nice bag, the conference guide (which is available online), A ticket to the Thursday night comedian event, info about the Friday night library event, info on how to get a free t-shirt and how to enter the iPad giveaway, and your name badge, which I replaced with my custom version.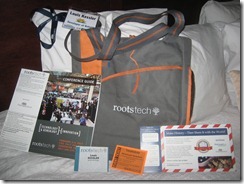 The main exhibition hall for the keynote speaker was huge! They had thousands of seats set up.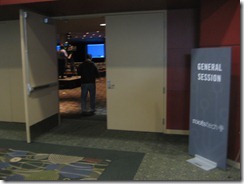 In the hall, one of the keynote speakers was doing a dry run. But I couldn't get close enough to see who it was.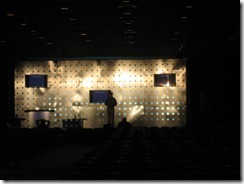 The other rooms for the various sessions were bigger than I thought from the map, which shows them as tiny boxes. Each room must hold 200 people. Still, with 3,000 attendees, you'll probably have to get to each session early to get a good seat, so it will pay to be organized and know where you're going next.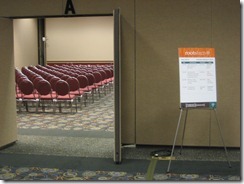 There was lots of activity in the Exhibition Hall as the various vendors were all getting set up.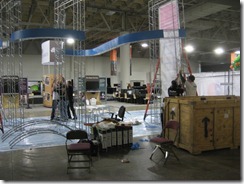 And there were lots of electronic boards showing the #RootsTech twitter feeds as they were happening. So all you twitter people: even if you're not here, get your tweets out with the #RootsTech hash code and we'll see them.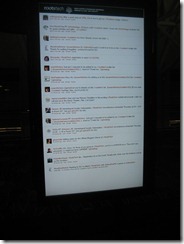 As far as looking for people I knew, I wasn't too successful. There was a group of 20 or so genealogists from one society in Ontario who were on the same plane as me. I ran into them again twice more. They were hard to miss because they migrated together.
There was also someone who looked familiar to me, but I couldn't remember from where. It was someone I hadn't met but had seen his image on the Internet. I went up to him and asked. It happened to be Curt Witcher, who I understand from my Internet sightings that he is a most wonderful genealogy speaker. I didn't think I saw him among the speakers and I know I would have wanted to hear him if he was speaking. He confirmed to me that no, he isn't speaking this year. He's come as an observer and to learn. We're all still learning, no matter how much we know. Even Curt.
Unable to find anyone to spend time with this evening, I decided to head back to my hotel and get a good night's sleep so I could be fully fueled for the busy 3 days ahead. On the way, I found there were hundreds of people walking along as well. I asked what was going on. They were heading to the Utah Jazz game that was playing at their arena just a block away. I could quite easily have got a ticket, but decided it was already a bit late for me (lost an hour) and I wanted to get this blog post out.
Over and out for day zero. Tomorrow's day 1.