Several weeks ago, many people who were downloading Behold noted that they heard of it from Your FamilyTree magazine. I went to our bookstores here in Winnipeg and searched for that British magazine, but we tend to get overseas magazines rather late, and the latest issue I could find was the April issue.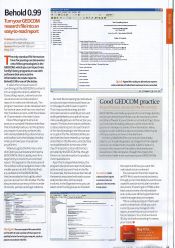 I went online and ordered their August 2010 Issue 93. Yesterday it arrived. I expected maybe a letter to the editor mentioning Behold. So I was very surprised and pleased to see on page 89, a full page all about Behold that was quite a favourable review.
I can't reproduce it here because of copyright restrictions, but the snapshot will give you an idea. If you want to read the full report, you will have to purchase the magazine.
I can say that the review concludes with: "This is a unique program that's well worth a closer look."
Although the Reviews section of the magazine does not give the author of any of the reviews, my review's author slipped up and the first image of the Everything Report shown in article includes the line: "Prepared by Mike Ratcliff".
So thank you, Mike, for the nice review.