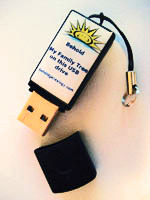 I had a customized 2 GB USB pen made for me. It arrived today, complete with the "image" I developed to put on it.
Since Behold will very soon become a portable app, this is a cute way of promoting that ability, and I've now added that pic to Behold's home page beside the Portable Application item.
My daughter pointed out that it would have been better if I left the word "drive" off, because "Tree" rhymes nicely with "USB".
Maybe the next thing I'll make up is a pregnancy shirt embossed with: "Behold, I am expanding my family tree".