RootsTech 2018 has started. This year it is a 4 day affair running from Wednesday to Saturday. They added on Wednesday, which last year, was an Innovator Summit day and an extra you had to get a ticket to separately. This year, the day was part of the package.
Last year there were a lot of people on Wednesday, and swarms of people from Thursday to Saturday. This year, the swarms started on Wednesday. Registration for attendees opened on Tuesday and the lines were hundreds of people long. If you weren't a RootsTech Ambassador or otherwise an insider, you'd have up to 2 to 3 hours in line to register.
The number of people also filled up many of the talks. I read a number of reports of people wrote that they couldn't get into some of the talks they wanted to. Unfortunately, that's what success brings. There's the old joke about being told how terrible a restaurant is because you can't book a reservation as they're always full.
I had the pleasure (honour) of going to RootsTech in 2012, 2014 and 2017. This is my off year, so I am what's technically called a #NotAtRootsTech-er this year. LDC of Ottawa has a wonderful #NotAtRootsTech Survival Guide and made buttons for those of us not there to display:
Having been a past participant of RootsTech, I know what it's like. I gave a talk to the Manitoba Genealogical Society on Monday, and one person couldn't be there because they were at RootsTech. I asked how many others had been. Not one of the two dozen there had. So I spent the next 20 minutes expounding upon how they must make the trip at least once.
With the experience of RootsTech fresh in my mind from last year, I didn't need much to get in the RootsTech spirit. Between the Live Feed yesterday, social media Twitter tweets under the hashtag of #RootsTech and #NotAtRootsTech, Facebook posts, Blog posts and YouTube videos, there was enough to make me feel totally immersed and involved all day. At 8:28 a.m. RootsTech time, I tweeted:
It's impossible to keep up with the #rootstech and #notatrootstech twitter feeds today.

— Louis Kessler (@louiskessler) February 28, 2018
Day 1 was a bit of a different day. The Keynote by Steve Rockwood was at 4:30 pm, rather than first thing in the morning, so people got to attend talks prior to that all day. Also, the Exhibition Hall did not open until the evening, which likely contributed to the overfilling of the talks, because the huge hall was not available as an alternative. I'm sure it will be easier getting into the talks on Thursday and Friday.
On Day 1, I enjoyed the live feeds of "Family History in 5 Minutes a Day" by Deborah Gamble, "DNA—One Family, One World" by David Nicholson and Hannah Morden of Living DNA, "Organizing and Preserving Photograph Collections" by Ari Wilkins, and the General Session and Innovation Showcase to close the day.  I have to admit I didn't watch the WWII talk since I personally have little interest in WWII research. I went to the online RootsTech app and downloaded the handouts for each of the talks as I listened to them.
Jason Hewlett was again the entertaining host. It was a pleasure meeting him (albeit clean shaven) last year: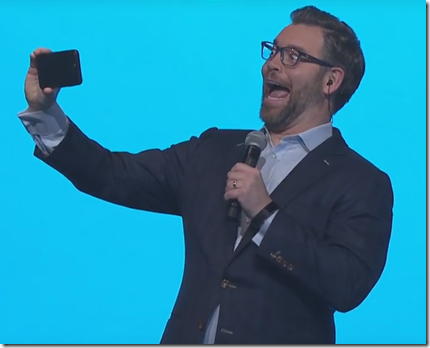 There were several announcements that I found very interesting, most on a DNA front:
Living DNA was making the biggest splash. They are all-in this year, being a major sponsor of RootsTech. And they are working to put themselves on equal footing with Family Tree DNA, 23andMe, Ancestry DNA and MyHeritage DNA and turn the big four into a big five.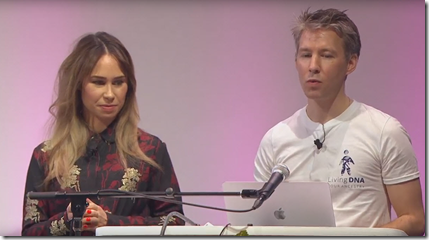 Above: Hannah Morden and David Nicholson of Living DNA
One thing they showed in a video during their presentation just blew me away:
They did it! @Living_DNA got DNA from a postage stamp. It took them 4 tries, but they did it!!! Save all your great-grandparent's letters! #rootstech

— Louis Kessler (@louiskessler) March 1, 2018
David and Hannah during the day announced that Living DNA had a new "Family Networks" offering. As part of this, they will be making match data and a chromosome browser available.
Later during the Innovation Showcase section, 5 representatives from the 5 DNA companies were on stage together, which might be a first: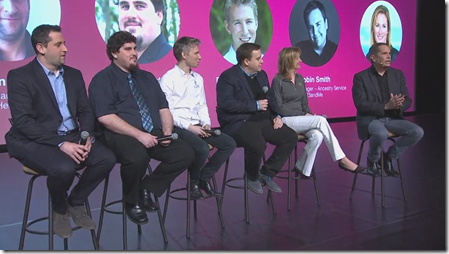 Ran Snir (MyHeritage DNA), Jim Brewster (Family Tree DNA), David Nicholson (Living DNA), Robin Smith (23andMe), Sarah South (Ancestry DNA) and Scott Fisher moderating.
They were asked if they'd be able to work together. David Nicholson said: "I think it's great that we're all onstage together. That's a start." But then Robin Smith said that competition is healthy and good for everyone,. I agree that both of them are correct. Both cooperation and competition is needed.
Another big announcement was from MyHeritage announcing a New FamilySearch Tree Sync, allowing FamilySearch users to synchronize their family trees with MyHeritage.
Prices for DNA kits at the Conference are as low as they've ever been. No better place to pick up a DNA kit than at RootsTech. Which company? Why not all of them?
It was also nice to see Curt Witcher, Judy Russell, David Rencher and moderator Scott Fisher on the Innovation Panel.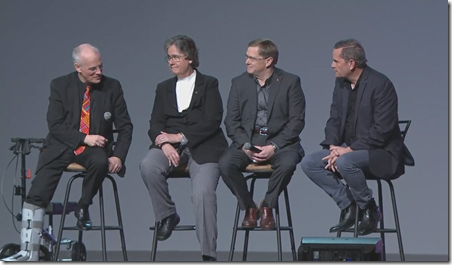 Being a contestant (and 3rd place winner) of the Innovator Showdown in 2017, and someone very interested in DNA software, I wanted to know what was going on with the DNA Innovation Contest this year. This was a somewhat last-minute thing announced by Grow Utah in December. This is a $30,000 cash and $20,000 in-kind contest with 3 prize winners ($15K 1st, $7.5K each runner-up).
That did not give contestants much time, but they still got a really good group of entrants together. The six finalists were given space to display in the Exhibit Hall:
Finalisten DNA Innovation Contest #RootsTech : Match Compare, @dnapainter, Gno-mine, ItRunsInMyFamily, @RootsFinderApp en Origins. Prijs $50K pic.twitter.com/h59emcWA5r

— Rob van Drie (@RobvanDrie) February 28, 2018
The six finalists include:
The winner was Jonny Perl of DNA Painter. Jonny had to fly in from England for this and it was quite an adventure. He has really done an amazing job in adding useful and easy to use features in his free online offering.
The two runners-up were RootsFinder and ItRunsInMyFamily. I was very happy for Dallan, who was in the 2012 Developer Challenge with me (I had entered Behold, Dallan was a top-6 finalist with his GEDCOM parser) as well as Heather Henderson who works with Dallan. They had entered RootsFinder in the 2017 Innovator Showdown and I got to meet Heather as she was the presenter for RootsFinder in the semifinals.
That was quite a first day. I look forward to what else comes out of RootsTech over these next 3 days.
And be sure you read what everyone has to say about RootsTech. Randy Seaver is keeping up his Compendium of Blog Posts for RootsTech 2017.  Each person has a unique perspective and you get a different taste of RootsTech from every post, so pick some to read and enjoy.