#cangensummit2017 - On Thursday, I'll be flying 2,600 km (1,600 miles), but still be in Canada, as I travel to Halifax, Nova Scotia for the Great Canadian Genealogy Summit being held from October 13 to 15.
I'll be one of 12 speakers, all of us Canadian, giving 18 talks on various subjects of genealogical interest. With the conference taking place in the Maritimes, there are many talks on Acadians, Loyalists, immigration and Scotland. I'll be giving 3 talks on DNA, 2 of which will be on DNA basics for genealogists and one a little more advanced on autosomal DNA analysis.
I'm anxiously looking forward to the conference, meeting the other 11 speakers, and spending time with the genealogists in attendance. This will not be a large conference, so there should be lots of opportunity to get to know most of the people. There will also be a small Expo Hall and a few mini presentations in the Hall.
This year's Summit was organized by Kathryn Lake Hogan and Christine Woodcock. This is their 2nd Summit. Their first was successfully held last year in Brampton, Ontario. I had the pleasure of meeting Kathryn and Christine at RootsTech 2017 in February. I look forward to talking with them again.
I've never been to Halifax and am excited to go. It is said to be a beautiful city, and the Fall colours should dazzle. The genealogical highlight for me will be to go to and tour Pier 21, the home of the Canadian Museum of Immigration, and the place where many of my ancestors arrived to Canada in the early 1900's. Yes, I've got my research list ready in case the opportunity arises. The keynote speaker on Friday night will be Jan Raska from Pier 21 and he will be talking about what the immigration experience was like for our immigrant ancestors.
Interestingly, the Lord Nelson Hotel in Halifax (a landmark unto itself!) where we will be staying and the conference will be held, does not have a computer available for the speakers, just projectors. I, being a developer, rely on my HP Envy i7 desktop computer and two big monitors to do my programming. On the road, I have always simply used my Windows phone for everything I need, and usually just take my presentations on my phone, on a USB, and have it in the cloud so that I can put it on whatever presentation computer I'm given.
So I looked around for the cheapest most portable full Windows 10 laptop that can run Office with at least 4 GB RAM (minimum for good performance on Windows 10), and I ran into a refurbished Lenovo x131e with a nice small 11.6" screen at Best Buy for $206. It's even got a few features you normally don't find at this price, like a 320 GB hard drive and two USB 3.0 ports. I like the Lenovo (IBM) brand, as I used that brand laptop at work for my last 8 years. I ordered it late Tuesday night last week and they said 2 business days for shipping, so I thought I was okay. Once ordered, UPS said it would arrive "by end of day" on Wednesday … and I leave on Thursday, so I've got my fingers crossed.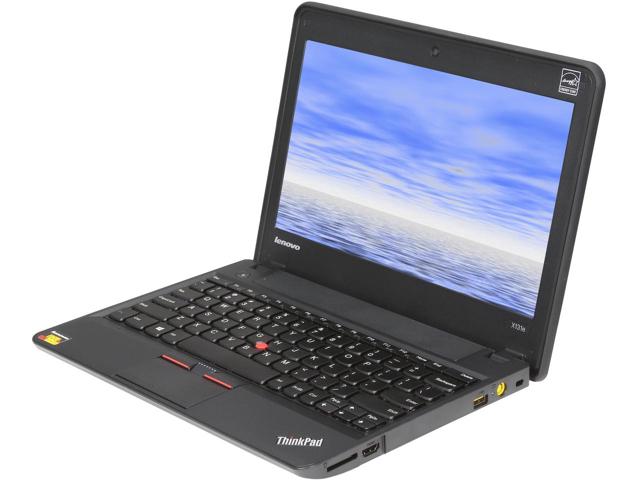 Followup:  My laptop arrived on Wednesday at 2 p.m. A nice little thing, just the perfect size for taking to conferences. I like feel of the keyboard and the touchpad works so nicely that I don't think I'll need a mouse. Cortana helped me through the Windows 10 setup it and I was impressed that it understood my answers without requiring voice training. It then went through some Windows updates that I expected via wifi would have taken hours. It finished in a couple of minutes and then rebooted.
After I activated the copy of Windows 10 from the product key that was listed on the computer, it asked me to sync my OneDrive files and then activate Microsoft Office which I have an Office 365 license for. Just 30 minutes after the laptop was delivered, I was able to open my Powerpoint presentations I created for the Conference this weekend that were up on OneDrive and were to my surprise already listed conveniently as recent files in the File Open menu.
I am very impressed with how smooth this procedure was and how short a time it took. Now to install a few programs I regularly use and I'm good to go.