When I was first learning about autosomal DNA analysis, just over a year ago, I was under the misconception that if three people triangulate on a segment, then that segment is IBD (Identical by Descent).
A segment that is IBD is one that is passed down from a common ancestor. These are the segments you are looking for. By identifying people who received the same IBD segment, you can use traditional genealogical research to trace back and figure out who was the common ancestor. This is way autosomal DNA analysis and genealogical research can work together to extend your family.
Triangulation means that Person A matches Person C on the segment, Person B matches Person C on the segment AND Person A matches Person B on the segment. If other people also triangulate with them over the same segment, then all people must match all the other people on the segment. Under this condition, all the matching people are said to be in the same triangulation group for this segment. If the segment is IBD, then they all share a common ancestor who has passed them that segment or some portion of that segment.
In a Chromosome Browser, if you are Person A, what you see is:

So you as Person A match Person C, and you as Person A also match Person B over the same segment. Don't make the mistake of thinking that this means you triangulate with Persons B and C. You still have one more check to make. You must verify that Person B matches with Person C on that segment before you can say that the three of you triangulate. Unfortunately, your own Chromosome Browser will not tell you that.
Simply using what's called ICW (In Common With) is not good enough. That means Person B and Person C are considered a match with each other. They definitely match on some segments, but those matches might not be the one specific segment you are looking at.
If you are at GEDmatch, you can do a one-to-one check of Person B against Person C and see if they match on the segment. At Family Tree DNA, you must ask either Person B or Person C to check in their Chromosome Browser to see if they match each other on the segment. At 23andMe, the "Y" indicator will tell you if you and a second person triangulate on at least one segment with a third person and then you can set one of them as the primary person in their Chromosome Browser and see if they match each other on the segment.
A Chromosome Browser does what I call "Single Matching". It compares one person to all that person's matches. By comparison, "Double Matching" uses the matches of two people and combines them and doing so can find all the triangulations that those two people have between them. It's like having two Chromosome Browsers side-by-side:

Using double matching, you can tell that Person A matches Person C (orange) and that Person B matches Person C (green) and that Person A matches Person B (blue) all on the same segment. This is what Double Match Triangulator does for you.
That's how you can find if people triangulate on a segment. Now what can you say if you have a triangulating segment?
My misconception a year ago was thinking that segments that triangulate are all Identical by Descent and thus the People who triangulate must share the common ancestor who passed the segment down. Debbie Kennett took a fair bit of her personal time back then through a number of emails and explained to me that this was not necessarily true. Thank you, Debbie, for your time and patience. My misconception has been corrected.
Here are the correct rules and what you need to know:
All IBD (Identical by Descent) segments will triangulate.
    but
Some segments that Triangulate are not IBD
This is very important, especially the 2nd statement. Never assume that a triangulation is IBD. Here are a couple of reason why they may not be:
1. One of the People Match by Chance
A matching segment in a Chromosome Browser means that we half-match. Each line the Chromosome Browser shows actually represents a pair of chromosomes, one from your father and one from your mother. To be IBD, one of your parental chromosomes must match just one of Person B's parental chromosomes and just one of Person C's parental chromosomes. What can happen instead is that they match by "zigzagging back and forth" between the parental chromosomes. Check out the section "False Positive or Identical by Chance Match" in the article Concepts – Segment Size, Legitimate and False Matches by Roberta Estes who explains this very well.
You could theoretically have 3 people who all match each other zigzagging back and forth between their parental chromosomes. But this is quite unlikely, since instead of just one chance match, for this you need three chance matches. I haven't seen any studies of this but my reckoning would be that it would be a rare event.
Still, there's a much more likely way for a triangulation to happen with a chance match. Let's say a segment of Person A matches Person B the correct way: over just one of their parental chromosomes. Then that segment of DNA is effectively the same for both of them (only differing because of a few no-calls, misreads and/or mutations). Person C may triangulate with them on this segment by zigzagging between its parental chromosomes to match at each location. If Person C matches by chance to Person A on this segment, then Person C will also match by chance to Person B.  This appears to be a triangulation but is a match by chance and is therefore not IBD.
This match by chance in a triangulation is bad because it is difficult to discern the people who are by chance matching into a triangulation group. The by chance match will match everyone else in the triangulation group. The only way to tell the difference would be to look and compare the raw data – not a simple task, and something you can't do at GEDmatch because they don't give you access to the raw data.
One thing triangulation does do for you is reduce the likelihood of a by chance match. In Single Matching, any match between two people that is less than about 15 cM may be a match by chance. As the segment gets smaller, the likelihood of a match by chance increases. But in triangulation, we do have one leg matching two of the people on one of their parent's chromosome. The by chance match can zigzag on its own pair of chromosomes, but cannot zigzag on the other connection.
That forced connection reduces the worry of matches by chance but do not eliminate it. Jim Bartlett has concluded that all triangulations of 7 cM or more cannot be chance matches. He suspects that threshold might even be as low as 5 cM.
So triangulations could still include a match by chance. Be wary of triangulations under 7 cM.
2. Matching Segments are on Different Parental Chromosomes
This one really caught me off guard. I think it was in January during a discussion about triangulation on Facebook in a DNA discussion group, Blaine Bettinger posed the question to me:  What if the three matches of the triangulation are on different parental chromosomes?
That threw me for a loop. I had never thought of that before. Blaine was right. It could happen. Let's say person A matches person C on one specific segment on his father's chromosome, but matches person B on the same segment on his mother's chromosome. Person B and C would likewise have to match the same way, on the opposite parental chromosome than they do with Person A.

In the above diagram, all three people match each other on the same segment.  This is a Triangulation. Person A matches Person B on the same segment (albeit different parental chromosome) as Person A's match with Person C and person B's match with Person C.
When Blaine first brought this up, I had a bit of a panic attack. My entry of Double Match Triangulator in the Innovator Showdown at RootsTech was coming up. This was at the time a new technology based on triangulation … and if we've just discovered that triangulation didn't work, then what?
Fortunately, this turned out not to be a concern. This was just another case like the match by chance situation, where a triangulation occurs but the segment is not Identical by Descent. It does not invalidate triangulation as a tool, and triangulation is still required (but is not sufficient) for a segment to be Identical by Descent.
Don't think these opposite parent triangulations are a rare thing. They likely are not. I've found a number of examples in some of the work I've done. And here's the bad thing about them. It could happen with segments of any length. There is no protection by using only large segments, say 15 cM or more.
So then I thought of how to eliminate this possibility of elimination of opposite parent triangulations. Redrawing the Person A, B and C matches as a diagram, we have this: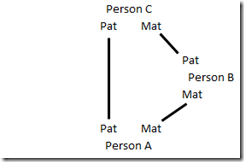 To prevent this, all we need is a 4th person who is part of the triangulation group. When you add that 4th person, and try to connect them to each of the other three, as below: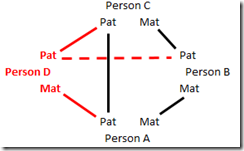 you'll see there is no possible way that you can make that last connection (the dashed red line) without forcing each line to be an identical segment. For example, in the above diagram, we can logic that:
A Pat = C Pat
A Mat = B Mat
B Pat = C Mat
    and
D Mat = A Pat = C Pat = D Pat
    so D's parental segments would match each other,
    and
C Pat = D Pat = B Pat = C Mat
    so C's parental segments would match each other,
    and
C Pat = C Mat = D Pat = D Mat = A Pat = B Pat
    so all people match on an identical segment
IOW, to force the triangulating segments to match, we need 4 people in the triangulation group. This could be done with an extension to Double Match Triangulation that could awkwardly be called: Triple Match Quadrangulation, which would use the segment matches of 3 people (Person A, B and C) to find all the people D who match A, B and C where A, B and C also match each other.
An alternative that would be simpler is to do two sets of Double Match Triangulations (A with B, and  A with C) and combine the results. Doing so would avoid the need to ever have to use the word "quadrangulation".
One caveat with regards to this. If any of the four people are siblings or other forms of double relatives that fully match on the segment on both chromosomes with one of the other people, then you can still include them in the triangulation group, but you can't count them as one of the four and you'll have to add another person who triangulates to bring the total up to four or more.
Double Match Triangulator already allows two or more sets of Double Matches to be combined in a "By Chromosome" run, but it does not yet merge the triangulation groups together. I'll attempt to do so in a future version of DMT using this new knowledge that a 4th person in the group can guarantee that its the same segment that's being triangulated.
Remember: Triangulation is still Very Useful
Even though triangulations may match by chance, or may triangulate on opposite parental chromosomes, that only means that triangulations are not necessarily Identical by Descent.
Despite this, what triangulating does for you is remove from your consideration a very large number of single matches that cannot be IBD. The matches that remain that triangulate are the only ones from which IBD segments will be found.
Said another way:  Identical by Descent segments must triangulate, so by triangulating you are greatly reducing the matches you have to look through to find the common ancestors of your DNA relatives.
Just be wary. Don't assume all your triangulations are IBD.
 
 
—-
Update Sept 25:  Ann Turner informed me on the ISOGG Facebook group that 23andMe allows you to put anyone as the primary person in the Chromosome Browser, so you can determine by yourself if Person B matches Person C without having to contact them. I've now corrected that in my article.
Additional notes in my reply to Ann:
From a mathematical analysis, I am pretty sure you would only need 3 people's matches, A, B & C to triangulate an unlimited number of people: D, E, F, G, …. into the same triangulation group (which is what I horribly named: Triple Match Quadrangulation). Using only two people, A & B, will determine all the triangulations, but those might include some triangulations with matching segments on different paternal chromosomes.
So no, you wouldn't need to compare D & E. If you add F, you wouldn't need to compare D & E, D & F or E & F.  Etc.
What you will find, however, is that some people may not have enough total cM to make a match criteria. They may match just on a few small segments including the one of interest. But you can't tell because they are not an overall match for you. You will then need to match them on the segment with a third person from the triangulation group to prove that they belong.