I've now released my new freeware program to provide a new view to help people analyze their autosomal DNA matches from FamilyTreeDNA. It is called Double Match Triangulator. I actually released version 1.0 a couple of days ago, but fixed a bug and version 1.0.1 is available at www.beholdgenealogy.com/dmt.
I've already blogged a few times in the last few months about it, so I'll keep this one short and sweet. What the program does differently is that it combines all the matches of two different people. Any matches that also coincide with the two matches are, by definition, triangulated.
The program creates a Excel file that includes all matching segment boundaries along with a Map that allows you to visually look for patterns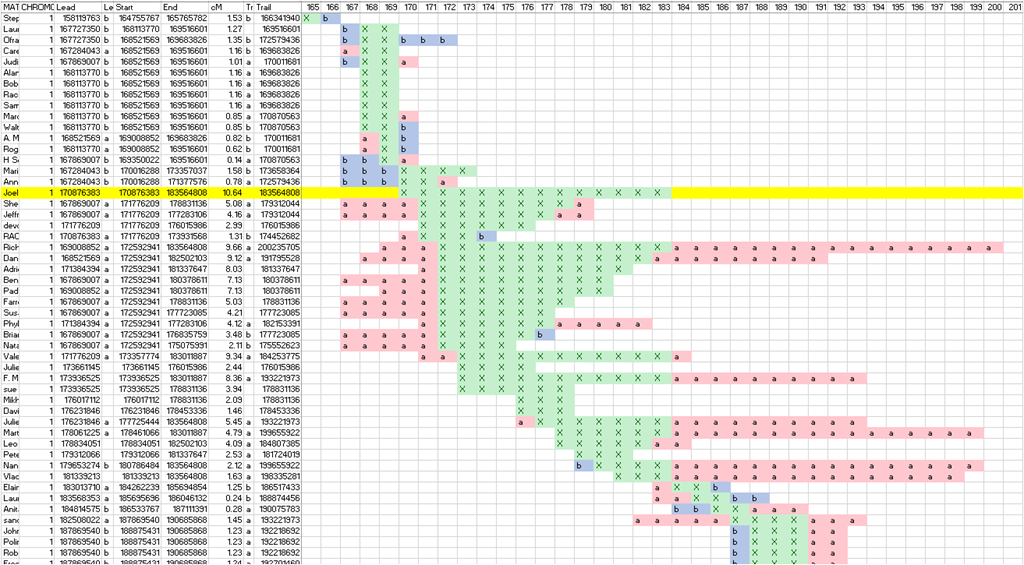 When I first thought of developing this, I thought it would help identify common ancestors and allow me to sort out all my uncle's 8,000 matches. Well, it's not quite that simple.
Triangulation does not guarantee Identical By Descent (IBD) matches that indicate a common ancestor who passed down that segment of DNA. Small segments under 7 cM still have a good possibility of randomly matching by chance, even if they are triangulated.
I'll need some experienced genetic genealogists to take this tool and figure out what can and what can not be determined from it. If straightforward analysis methods are developed using it, I could program those in and let the program do some of the analysis for you as well.
I'm still optimistic that the Double Match method of looking at autosomal results will lead to identifying family relationships. The segment boundaries (crossovers) are created by one ancestor and passed along several generations until they gets wiped out by another parent's segments, and I'm betting that those crossovers might produce a trail that can be followed to connect all the family members together.
With regards to the random matches, means of separating those from true segments may be forthcoming. In a way, triangulation is akin to phasing in that it helps identify the side of the family the third matches belong to.
And advanced use of multiple DMT files using 60 different people in all combinations as the Person a and Person b may reveal more than we can now imagine. There is a wealth of information here, and a lot of potential.
So if you've done some autosomal DNA match analysis and you have access to at least two person's autosomal DNA results at FamilyTreeDNA (and if you use Windows and Excel), feel free to download DMT and try it out. If you come up with great ways of using it, please let me know.
It took a few months and a couple hundred hours of my time to develop DMT. I am making it available free because I want people to use it.
I was half way through getting Version 1.3 of Behold when I got distracted by the need to explore the DMT concept. But I needed to explore autosomal DNA and I know a lot more now than I did before. Sorry for the brief interlude. We'll now get back to our regularly scheduled Behold development.