At the #OGS2016Toronto Conference yesterday (Sunday June 5), one of the last sessions was a panel discussion with the topic: the Future of Genetic Genealogy. On the panel were four distinguished genealogists who know their DNA:
Maurice Gleeson from London, England. DNA and Family Tree Research
CeCe Moore from Southern California. Your Genetic Genealogist
David Pike from St John's, Newfoundland. Pike Utilities for Autosomal Files
Judy Russell, from New Jersey. The Legal Genealogist
The moderator Elizabeth Kaegi, an expert on DNA herself, did a superb job keeping the panelists to a strict schedule so that all topics could be covered. Even CeCe, who admitted that she always runs overtime, finished just on time. Elizabeth has collaborated with James Thomson in her DNA work.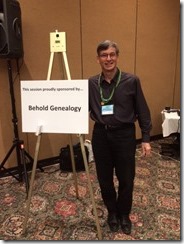 I was more than pleased when I was offered an opportunity to sponsor this session. Genetic genealogy is an important part of the future of genealogical research, and I was very interested in the direction this was going. I have been working on including some very useful DNA info into Behold. I haven't really blogged about that yet, but I will soon.
So as a sponsor, I was introduced by James Thomson. Then I got to introduce Elizabeth Kaegi. Then Elizabeth got to introduce the four panelists. Thankfully all these introductions were short and left plenty of time for the session.

 
CeCe Moore, Maurice Gleeson, Elizabeth Kaegi, Judy Russell, David Pike
There must have been 200 people in the room. Lara Diamond posted an excellent summary of the session and what each of the panelists thought.
Here's a few tweets I sent out live during the panel session:
"Families lie. DNA doesn't." Judy Russell @legalgen The Future of Genetic Genealogy Panel. #OGS2016Toronto

— Louis Kessler (@louiskessler) June 5, 2016
"I don't really think we can imagine what genetic genealogy will be like in 10 years" @CeCeLMoore Genetic Genealogy Panel #OGS2016Toronto

— Louis Kessler (@louiskessler) June 5, 2016
"We will be able to determine what our ancestors looked like." @CeCeLMoore Future of Genetic Genealogy Panel #OGS2016Toronto

— Louis Kessler (@louiskessler) June 5, 2016
I thank Judy Russell for insisting back on the Unlock the Past Cruise we were on a few months ago together, that I test my 93 year old uncle before it's too late.
I am excited about the future of genetic genealogy. You should be too.