@OGSConference. I had noticed that the Ontario Genealogical Society was holding their annual Conference in June. The Sunday program had several speakers I really wanted to hear. Lara Diamond will be talking on "Movement Between Towns in Eastern Europe" and "Jewish Genealogical Research in Ukraine", and Israel Pickholtz will be talking about his successes in his DNA research in his endogamous family, and I'm currently half way through reading his new book: Endogamy: One Family, One People. To top that off, Sunday has a panel discussing "The Future of Genetic Genealogy" with panel members: Elizabeth A. R. Kaegi (moderator), Maurice Gleeson, CeCe Moore, David Pike and Judy Russell. The closing keynote for the day is CeCe Moore with "Lessons from the Cutting Edge" of genetic genealogy.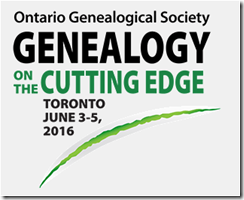 I didn't have time in June to attend the full Conference. But with a lineup like that on the Sunday, I just couldn't pass up that one day of the Conference. And I knew it would be great to meet up with Judy again, who I had spent a few weeks with a few months ago on the 10th Unlock the Past Genealogy cruise. I booked a flight to Toronto on Saturday June 4, the Conference hotel for the one night, registered for the one day of the Conference, and then my flight home to Winnipeg on Sunday night.
The Chair of the Conference, Paul Jones, noticed that I had registered and recognized my name as the author of Behold. He asked if I'd be interested in becoming an exhibitor or giving a pop-up presentation or becoming a sponsor. Due to my tight schedule for the day, becoming an exhibitor or giving a presentation did not work well, but I did like the idea of becoming a sponsor. So I'm proud and excited to announce that:
Behold Genealogy will be sponsoring
the panel discussion: Session 39: 
"The Future of Genetic Genealogy"
on Sunday June 5, 1:15 pm
at the OGS Conference, Toronto, Ontario
So that's now a day I'm really looking forward to. It will be great talking to Behold and GenSoftReviews users and meeting for the first time many people I know and who know me only from the web.