I'm very happy to be able to say that Behold has been given an award for being a Top Rated Genealogy Software by its users. See the official press release.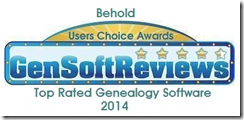 The award is given to any genealogy program that users gave an average rating of at least 4 stars out of five in 10 or more reviews with at least one review in the past year. Behold reached the 10 reviews just this past year and rated 4.26 stars out of 5. You can look at the individual reviews and ratings for Behold.
Now I have to say that I'm the one who developed, administers and maintains the GenSoftReviews site. And I'm the one who each year tabulates the winners, sends out the press release announcing the winners, and informs each of the winners of their award. I also moderate the reviews, deleting duplicates or spam or non-reviews, and try to prevent the site from being used as a discussion area, which is not what its for.
I try to ensure my work on my Behold program stays independent of the moderation duties I perform on GenSoftReviews. I have not in any way changed the ratings or reviews of Behold. They are as they were posted.
It took several years for Behold to get to 10 reviews, and the three reviews last year got it there. The algorithm I set up on GenSoftReviews to determine the time-decaying weighted average score was written many years ago. The site determines the winners, not me.
Listen to me. It's almost as if I feel a little guilty winning the award.
But it really feels nice. I'm in good company, with 15 other programs including  well known and full featured programs like Family Historian, Ancestral Quest, Brother's Keeper, Family Tree Builder, Reunion and RootsMagic.
I've now re-jigged my Behold home page, and put the GenSoftReviews award in a noticeable position on the top right of the page. You'll notice some of the other winners have also done so.
I developed GenSoftReviews in part because of Behold. I was already trying to catalog all the other programs out there, to see what they do and maybe to find one that I would want to use. But I wanted more than a list. I wanted to know what other people thought of them. What was good, what was bad. Those ideas would help me decide what to do with Behold and help me make it better.
And by having Behold on GenSoftReviews myself, I get additional feedback. I am using Behold's feedback on GenSoftReviews as another source of user input to help me make my product better. The goal is to have a program that people like, and if they don't, to fix it.
I would hope that all the genealogy software developers use GenSoftReviews as their own useful benchmark. The goal is to have a program that your users will rate at least 4 stars out of 5. If you don't achieve it, you are doing something substandard. Figure out what it is, fix the problem, and see if you can reach the benchmark the next year.
One program is not for everybody, just like one type of car is not for everybody. We all have our specific needs and preferences. But wouldn't it be nice if there were not just 16, but 816 programs that won GenSoftReviews Users Choice Awards that you could choose from. Thats my challenge to the other genealogy developers. Lets get your products out there, but make them good. Good enough that your users will rate them at least 4 stars out of 5 and get you a Users Choice Award next year.
GEDCOM File Finder Wins a GeneAward

Meanwhile, I got another surprise in the new year. The freeware program called GEDCOM File Finder that I spun out of Behold won a Tamura Jones GeneAward for Best New Genealogy Utility of 2014. It was very nice to be recognized, and it is much appreciated.
Now, to get back to finishing Behold version 1.1