I had a whirlwind 3 days in Leiden Netherlands to attend the one day Gaenovium genealogy technology conference.
Gaenovium 2014 was the first time this conference was put on. It was intended to be small with a highly technical audience interested in getting together to discuss aspects of genealogy programming and future genealogy data exchange standards. There were 25 people in attendance and that was really a wonderful size because it gave a chance for every person to talk at some time with every other person.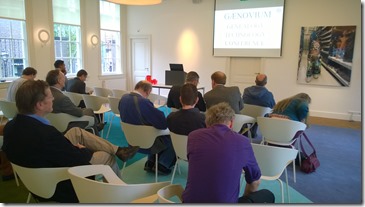 I gave a presentation called "Reading Wrong GEDCOM Right", and I thought there would be people who really wouldn't care that much about this topic. I asked at the beginning of my presentation how many people were familiar with GEDCOM and 90% of the people put up their hand. I then asked how many had actually had programmed GEDCOM input and/or output themself, and half the people kept their hand up. I was quite encouraged by this. After talking for about 20 minutes, I paused and just looked at everyone. They were all silent and looking at me intently. No one seemed disinterested. And so I continued. My presentation was very well received.
My presentation and all the other presentations are now posted at the Gaenovium site.
All the presentations were interesting to me, but meeting the people there was the most enjoyable and worthwhile venture. I'm purposely avoiding naming anyone because I don't want to leave someone out.
The conference was sponsored primarily by MyHeritage, and secondly by RootsMagic. I was happy to see two people from MyHeritage in attendance. One was the one employee they have in the Netherlands, and the second was the Chief Architect (I love that title, maybe I should call myself the Chief Architect of Behold) who was in from Israel for this. They were both interested in everything said at Gaenovium and were very friendly with the people who were there. I had some worthwhile discussions with both of them about Behold and maybe future connections between Behold and the MyHeritage online family tree. I was a bit disappointed that nobody from RootsMagic had come. It would have been nice to hook up with them as well.
One of the very thoughtful things about the planning of Gaenovium was that they chose the date as the day before a Family History trade show was taking place in the city. This was done on purpose, because some of the attendees also had booths at the trade show and this made it convenient for them to also attend Gaenovium. For me it was the other way around, and it made it convenient for me to visit the trade show. The show was called Famillement, and had over 70 exhibitors with the French company Geneanet being the sponsor. The show was well attended and at times it was impossible to move through the crowd.
      Above:  Timo Kracke at Famillement

      Left:  Bob Coret at Famillement
For me, it was also worthwhile to visit Leiden and get to spend time with Tamura Jones, who I've been communicating with for many years. He was a wonderful host, and the personal tours he gave to me of the city were much appreciated.
Some of the participants were already talking of a Gaenovium 2015 a year from now, possibly somewhere in Germany. If you heard about this year's Gaenovium too late to make arrangements to attend, then stay tuned to see if something gets announced for 2015.