This was an excellent question asked at Genealogy & Family History StackExchange yesterday. I answered stating that each source should be included just once with each person it pertains to at the person level, or if it is specific to a certain event (birth, marriage, death, residence, occupation, etc.) then it could be cited from that event rather than as a general source at the person level.
I was surprised at the opposition this idea had. The other answers were stating that sources should be everywhere, not only on every event or fact that it might pertain to, but even onto every assertion made about every event and fact.
Let's take a look at this from the point of view of Gramps, a typical program with respect to the way it handles sources, and the program that was asked about in the question.
In a quick search on the web, I could only find one screenshot where a person displayed a Gramps report that included source references: This one, from Christopher Fritz's Beyond a Sapling blog: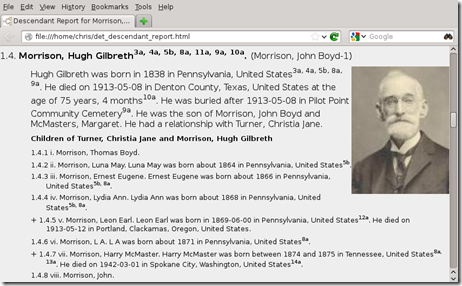 You will notice, as many programs do, Gramps displays the source references as superscripts. I presume the citations will be listed as footnotes or endnotes. I'm not sure why each number is suffixed by a letter, but those are likely something meaningful to the author.
There are 5 sources for the birth event: 3a, 4a, 5b, 8a, 9a. There is one for his death: 10a. There is one for his burial: 9a. On his name, they've summarized all seven sources (a nice touch since they also apply to the person) and have one other, 11a listed that must apply to the person, but not to any specific event.
Some of the same references and a few others apply to Hugh's children and are also shown with them.
This to me, is the proper level of documentation of sources. To denote the source with its primary event or with the person is the correct thing to do. Most programs allow you to do this in this way.
Let's carry this a step further by sourcing absolutely every event and fact as the others recommended in their answers to the StackExchange question. We have statements about Hugh that are not documented.
He was the son of Morrison, John Boyd and McMasters, Margret. How is that known? We may have conflicting evidence, so shouldn't we be indicating which documents supported (or didn't support that). Let's mark those as 3a, 4a, 5b, the same documents as used earlier.
Hugh had a relationship with Turner, Christia Jane. Obviously that needed a source but wasn't given one. Could it be that the children's birth records named both parents. Then let's add 5b, 8a, 13a to the relationship fact.
Now let's not limit our sources to one event, but add it to all that it may apply to. I'm sure the death record gave the date of birth. So let's add 10a to the birth sources. And lets add the cemetery stone information, 9a, to the birth and death record. Oh! It's already on the birth record.
So just using the information we have been given, we have started to add duplicate citations onto every event. Imagine if we had a letter that told of Hugh's life and death, said how old he was, where he was buried and who his parents were. We would then have to add that source reference 5 times to Hugh's information. Let's call it 15b.
This is what we've got now:
Morrison, Hugh Gilbreth3a,4a,5b,8a,11a,9a,10a,13a,15b

Hugh Gilbreth was born in 1838 in Pennsylvania, United States3a,4a,5b,8a,9a,10a,15b. He died on 1913-05-08 in Denton County, Texas, United States at the age of 75 years, 4 months10a,9a,15b. He was buried after 1913-05-08 in Pilot Point Community Cemetery9a,15b. He was the son of Morrison, John Boyd and McMasters, Margaret3a, 4a, 5b,15b. He had a relationship with Turner, Christia Jane5b,8a,13a,15b.
This is certainly more complete. But is it better?
I added the 15b onto every event to show how it makes that information less useful. Sure you'll have all the references you need for each event, but the extra information makes it harder to identify what's important.
Let's now go a step further as some of the other answers to the StackExchange question proposed. Let's source every assertion!
Hugh's date of birth, place of birth, date of death, place of death, age at death, date of burial and place of burial are all individual facts. Each may have different supporting material. Should we not then give each their own list of sources?
The dates and places mentioned in each source may not be identical. Hugh's birth date may have been 1838 on 3a, not given on 4a, After 1835 on 5b, Age 5 in the 1840 census for 8a and age 16 in the 1850 census for 9a. The birth place may also be different for each source. Should we not list the individual birth dates separately and source each one individually?
This, to me, is carrying the documentation of sources almost to the level of absurdity. What I would do in the latter example is simply attach a note onto the birth record stating that the various records gave dates of www and the records yyy and xxx were considered most reliable because of zzz.
The level at which we analyze our data is within the context of a person's life. When doing so, we want to gather all the information we have about the person and use it together to piece the puzzle.
I have been talking about sourcing in standard genealogy software. Programs designed for evidence analysis such as Evidentia, GenQuiry, Clooz or Lineascope do require analysis and sourcing at the assertion level. But they present their data in a customized manner that supports this.
For standard genealogy software, I think associating each source to all of a person's individual events and facts and then further associating each source onto the many assertions used to conclude each event and fact is a case of too much detailing. The extra work involved to do so, as well as the complexity it adds, overwhelms the benefits that the extra detail might provide.
Instead, by associating each source only once per person, either at the person level or at the event level, you'll have a clear and concise documentation of the sources used to provide the conclusions about that person.