RootsTech 2014 #RootsTech is getting closer, running from Thursday February 5 to Saturday February 8.
There's an extra day on Wednesday February 4 that has been renamed from Developer Day to Innovator Summit. That's a nice wording change. To be an "innovator" sounds much more impressive than being just a lowly "developer".
Most of the schedule is now available through an online session viewer, which you can use to browse through all the sessions, filter for certain categories, skills or days, or search by keyword.
They've done a really bad thing again this year. There are only 4 time slots a day for sessions on 5 days not counting the one General session every morning. That's just 20 time slots that a person can attend, and just 16 for people not going to the Innovator Summit day. The bad thing they've done is to cram in so many excellent speakers and topics into just that many time slots.There are 238 sessions listed, meaning on average, there are 12 sessions per time slot.
This means each in time slot, you'll have to select just one session to go to, and you are guaranteed to miss 2, 3, maybe a half dozen other sessions that you would have loved to go to as well. This is just too high a ratio and even though you'll be hearing some great talks, you'll be missing many more than you can hear.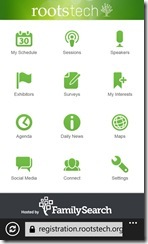 They have made a Session Builder App available for iOS or Android or as a web app for those with other devices. I've already installed the web app on my Windows Phone. It's a nice little tool.
My session on Windows Phone for Genealogists is the first time slot after the General Session on Thursday from 10:30 to 11:30. I'll have more competition than average with 17 other speakers at the same time.But if you're reading this, come to my talk. I promise it will be both entertaining and informative.
Interestingly, they still have not announced all the Keynote Speakers. So far, I know that Chris Dancy is the Wednesday Speaker for the Innovation Summit day, and Ree Drummond was supposed to be the Keynote on Thursday but that's not confirmed anywhere else yet. Thursday's General Session is sponsored by Find My Past. Friday's is sponsored by My Heritage, and Saturday's is sponsored by Ancestry.com.
Although the Rootstech website still does not give the entire list of exhibitors, it looks like many of them are already listed on the web app.
More about the sessions in my next post.