I read with interest, James Tanner's blog post he wrote earlier today with the title: What should genealogy software do?. James refers back to Mark Tucker's 2008 article entitled "10 Things Genealogy Software Should Do". There's also Michael Hait's 2012 post titled "My vision of the perfect genealogy program" and my blog post about it. And I'd suggest you also look at what Ron Tanner presented at RootsTech 2012 which was a Report Card for the Genealogy Software Industry that listed and graded all the things that Ron and a few others thought genealogy software should do.
As a genealogist, a genealogy software developer, and a studier (through GenSoftReviews) of all the genealogy software that's out there, I must say I have my own strong opinions of what genealogy software should do. I'm building Behold so that I'll finally have the program I'll want that will be able to do all these things for me, and if at the same time it helps others and changes the way people think of genealogy programs, that will be an added bonus.
So here's my list:
1. The software must be able to show all the information, events, notes, media items, etc. about an individual all at the same time. It would then be helpful to be able to add any other connection to the data by simply clicking on a hyperlink. Guess what? This is what James said in his list. If such a thing were ever implemented, I think I'd call it an "Everything Report".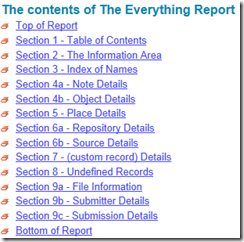 2. The software must present your data in a manner that actually can help you do your research and see if your conclusions make sense. It must clearly show each person's life events in a time ordered manner that includes the events of their significant others with relationships and ages and source references and linkages to the other people, places and sources, with inconsistent data highlighted for you so you can fix it.

3. The software needs to work like a Word Processor, and allow edits and data entry directly on the report. If such a thing were ever implemented, I'd call it "Version 2.0".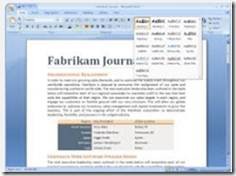 4. The software must allow Source-based data entry. You should be able to enter your source detail information by source without having to attach it to a person or people.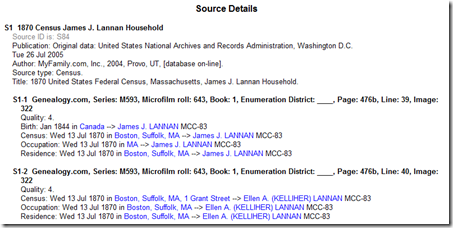 5. The software must correctly follow the GEDCOM standard for output and minimize its own custom data from that output that other programs will be unable to read. It must be flexible in reading other programs' GEDCOM for input. Once a new standard comes to be, it must be prepared to do so for the new standard as well.
6. The software must do extensive data checking, reporting on Non-Standard GEDCOM input, Data Problems, Inconsistencies, and Logical Problems.
7. The software must be fast and have a modern easy to use interface that follows the standards (menu layout, icons, shortcut keys, etc.) of its platform (Windows, Mac, Unix, web-based or handheld), and must include thorough documentation with context-sensitive help available.
8. Finally, the software must make sure it does not do anything bad. Check out these 6 Bad Things About Today's Genealogy Software.
There you have it. That's what I think genealogy software should do. This also outlines my goals for Behold, and it will take some time, but it shall come.