Jill Ball proposed another meme for genealogy bloggers for them to share the how and why they do their genealogy blogging. I enjoy a good meme. They are fun to do and interesting.
I've done a couple of genealogy memes before: What I Do – in July 2010 proposed by Thomas MacEntee, and My Tech-Savvy Genealogist Meme – in Sept 2011 which was an earlier meme proposed by Jill.
I followed Jill's Geniaus blog for a long time and it was great meeting her at RootsTech 2012 and then spending time with her on the 3rd Unlock the Past History & Genealogy Cruise last February.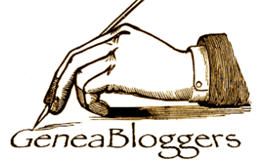 Being a geneablogger (I proudly display the logo on my main blog page), I think Jill's meme is a great way to advertise the geneablogging community and get more people to start doing it.
So here are my meme answers:
What are the titles and URLs of your genealogy blog's?

"Louis Kessler's Behold Blog" – yeah I know it's a blah title.
www.beholdgenealogy.com/blog
RSS feed: www.beholdgenealogy.com/blog/?feed=rss2
RSS comments: www.beholdgenealogy.com/blog/?feed=comments-rss2

Do you have a wonderful "Cousin Bait" blog story? A link to a previous blog post might answer this question.

My "cousin bait" is on my My Family Research page on my personal site. I do have one blog post from June 2006 about finding a 2nd cousin I had never met.

How did you decide on your blogs titles?

Obviously, it just happened without thinking. Duh! I should be able to get a better one shouldn't I?

Do you ever blog from mobile devices? What are they?

I use a Windows Phone. It has a WordPress app, but that app unfortunately doesn't work with my blog which is too old a version of WordPress. I can't update my blog because it's way too customized.

Besides, my two finger typing speed is not up to par with younger folks and I'm much more efficient on a full touch-typing keyboard which saves me much time when you consider the length of some of my blog posts. I got an inexpensive mini-keyboard specifically to try blogging from my phone, but alas – bluetooth for keyboards doesn't work yet on Windows Phone.

As a result, I still usually take a laptop when I'm on the road for my blog posts. But I will tweet or post to Google+ or comment on someone else's blog from my phone.

How do you let others know when you have published a new post?

There's my RSS feed. I also use Twitterfeed to automatically post a tweet on my Twitter account for every new blog entry I make.

How long have you been blogging?

I'm coming up to 11 years.

What widgets or elements do you consider essential on a genealogy blog?

Comments. And a search tool that will search all the blog posts and comments.

What is the purpose of your blogs? Who is your intended audience?

I was developing a genealogy software program called Behold. I wanted to allow people interested in my program to see my ideas, my progress and my plans. I hoped to hear back from them though comments to see if I'm progressing in the right direction. Here's my blog post from Nov 2002 when I learned about genealogy blogging and decided to put up a blog.

I'm big into genealogy and programming and I talk about both. I'd like my blog to be something that my Behold users for sure will want to read and will be interesting to others as well.

Which of your posts are you particularly proud of?

Wow! That's a good question. After thinking, I'd have to say this one: "Version 1.0 Released".

I think I do a good job with my daily posts when I'm at a Conference such as RootsTech and the Unlock Your Past cruise.

But really, I'm proud of them all. A lot of myself is in each post.

How do you keep up with your blog reading?

I believe in RSS feeds. I've subscribed to about 250 blog feeds. I use the RSS feed reader built into Internet Explorer. It shows me which blogs have new posts every time I open my browser and I can review them all in about 15 minutes a day.

What platform do you use for publishing your blogs?

For a long time I used the built-in WordPress post facility, from the admin area online on my website. But then I discovered Windows Live Writer which is a wonderful WYSIWYG blogging tool that works like a Word Processor on my PC and can publish and upload to my WordPress blog seemlessly. Windows Live Writer is part of Windows Live Essentials.

What new features would you like to see in your blogging software?

WordPress is actually pretty amazing. I'm stuck in my older version of it because of my extreme customization. But for the next few years at least, it should serve me well.

Which of your posts has been the most popular with readers?

Surprisingly to me, my most popular blog post in the last month (1125 hits) was from Oct 2011: My Torn Achilles Tendon After Nine Weeks. Next to it with 346 hits was A Recipe for GEDCOM.

Are you a sole blogger or do you contribute to a shared blog?

All alone in my room. My family doesn't bother me (much) when I'm blogging.

How do you compose your blog posts?

Usually with an idea at 3 a.m. or in the shower. Hammer away at the keys. Try to see that it makes sense. Post it and hope for the best.

Do you have any blogs that are not genealogy related? If you wish please share their titles and URLs.

One's enough. I try to average at least one post a week.

Have you listed your blogs at Geneabloggers?

Yes, on Feb 21, 2009.

Which resources have helped you with your blogging?

I had to learn PHP (the worst programming language ever) and MySQL databases in order to customize WordPress the way I wanted. That cost me six months of my life.

What advice would you give to a new Geneablogger?

Don't try to be anyone else. Be yourself.

The last word: an unexpected outcome of blogging.

Being accepted into the genealogical blogging community and receiving a necklace from Jill Ball.