It happens to me every so often. The papers and things to do and things to file start piling up on my desk. I attempt every so often to organize them and they end up on the floor in piles. The piles get kicked over or thrown into the closet to be put away later. My binders of reference material need be be culled. My drawers and file folders seem to get messier every time I open one. I have boxes of genealogy material waiting patiently for me to go through them. My computer files keep calling to me to be reorganized. My old videos and pictures will turn to dust before I attend to them. My clothes need weeding out, and don't even let me start to describe my basement.
Disorganization can be very stressful. In fact, if there's one thing that gets me agitated more than anything else, it's my own ability to let things pile up.
There's only one solution to this problem. Just like getting in shape, learning something new, writing a software program or building a deck, you've got to attack it. The impediment is that the mountain seems too high to conquer.
I know for programming, they say to make at least a little progress every day. I try to do that with Behold. I try to make it a priority each time I turn on the computer. My Behold "pile" is 5 cm high and sitting at the left side of my desk. But there's so much other stuff looming in front that acts like a magnet and pulls at me: email, Twitter, Google+, (I'm not a Facebooker), StackExchange, my favorite web sites via RSS feeds, these and so many other things that act like a heroin addiction to computer users. These can make hours go by without you ever getting to the thing you wanted to do.
Meanwhile, 12 new things plop on the desk getting ignored that add to the pile.
Stop this frantic action now and do this:
The first time you go to your computer each day, instead of doing what you normally do, go to Google and type in the search bar "Countdown 15 minutes".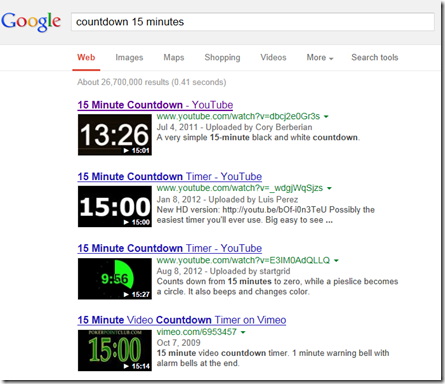 Pick one of the links and start a countdown timer.
Now, take the one task that is most bothering you – whether it be your messy pile on your desk, the project you want to make progress on, or whatever. Get yourself to do as much of it as you can in 15 minutes. Once the timer is done, you can stop and go back to your regular routine.
Make this a routine and see how many days you can do it. Hey, it's only 15 minutes a day. It's not like you don't have that much time to spare, since you'll probably spend hours on your computer.
You may be surprised by a few things:
1. You will feel a great accomplishment for starting to do this. Finishing any tasks feel really good, even tiny tasks. Doing a small part of a big project also feels good, because you'll be making progress.
2. You'll be surprised how long 15 minutes is, and how much motivation a timer is to get you working hard for that period of time.
or
2. You'll be surprised how quickly the 15 minutes went by. When that happens, you'll be amazed at how much you got done.
3. You may find you don't want to stop after 15 minutes. That's okay if you want to bring what you are doing to a good point that you can pause it. But don't burn yourself out. And you don't want to start falling behind in everything else you're doing as a result. You just want to get going on the things that you want to do, or need to do, that you couldn't motivate yourself to start.
So that's my suggestion. At the start of your daily computer fix, use a 15 minute countdown timer to attack your disorganization and reduce your stress. It works!