In October, an Australian publishing company, Citrus Media, will be publishing Australia's first ever glossy genealogy guide.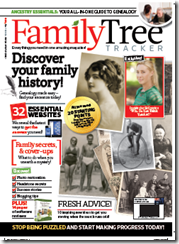 This will be a 100 page magazine aimed at beginners and Australians, as a resource to help them begin their ancestry journey with advice on software, research resources, real life stories and more.
Here's some of the content that was planned for the magazine (subject to change):
Genealogy 101
20 Starting Points
Birth, marriage & death certificates
Join a society
Genealogy website list
Digital archive revolution
Get Organized
Power Hour (Research your can do in your lunch break)

Software
Genealogy Software Reviews
Family Tree of Confucius (2500 years old)

Aussie Aussie Aussie
A snapshot of 21st century Australia
(Australia St, Population, Generations Defined)
How to Speak Straylan
Book reviews (eg Thomas Kenneally's book "Australians")
Who Do You Think You Are? (SBS documentary series)

The Convicts

Immigration
Migration map
Founders & Survivors Project
The Brits
The Scotts
The Irish
The Italians
The Greeks

Real Life
Ancestry success stories

War
'When our soldiers fall on the field of battle, they earn the right to live forever."
The Lost Diggers of Fromelles
Lost war medals

Cemetery
Headstones
Cremation
Mausoleums
News

No Stone Unturned
(Use clues to unearth your history)
10 clues to help you explore your ancestors
Tattoos, Heirlooms, Medical, Certificate (birth, marriage), DNA testing, Diaries, Ship logs,

Secrets & Lies
How to deal with surprise discoveries like finding out there's a felon in the family, or a child born out of wedlock.

Celebrate
Plan a family reunion
Birthday milestones
Baptism rituals
Wedding trends

Lost
Follow the adoption trail
Uncover orphan mysteries

Archival Survival
Restoring vintage photos
Preserve documents and textiles
Creative ways with memorabilia
For the magazine, I was contracted to write the 8 page section of Software Reviews. The first page explains the information that is in the reviews. That is followed by seven pages with information on 21 programs, 3 per page. For inclusion, I selected the programs at my GenSoftReviews site with the most user reviews in the Windows, Mac, Multi-platform and Online categories.
I love the way the designers laid out my material. It is organized, easy to read and contains lots of information including a screenshot of each program. The GenSoftReviews user rating and some of the users' Pros and Cons are summarized for each program. A banner on the top right corner of each screenshot displays the GenSoftReviews User Choice Awards that the program earned. I'm very pleased with the way it turned out.
The Family Tree Tracker magazine will be sold across 3,500 newsagents in Australia and may be sold online as well. I'll let you know once the online link becomes available. Look for it this October.