After 3 wonderful weeks down south of the equator for the first time, across the international date line for the first time, and enjoying summer and days longer than 12 hours in February for the first time, after a total of 18 gruelling hours in the air, I'm back home again. Despite returning to snow on the ground and below zero temperatures, it does feel good to be home.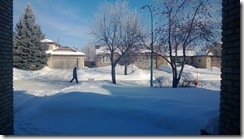 I loved our stay in Sydney. It is a teeming megalopolis.City Centre is bustling with people and traffic everywhere. Thousands of stores and businesses and eateries within a few blocks of our hotel. The transportation infrastructure with its trains, subways, buses, taxis, monorail (to be closed this summer, so sad), walkways, bike paths, freeways, tunnels, parkways and ferries is head-spinning. We did all the touristy things, and the highlights included petting a koala at the Featherdale Wildlife Park and watching the surf at Manly beach as it grew from 1 meter waves in the afternoon to 2.5 meter waves in the evening. Despite all the warnings about Sydney being expensive, we didn't find prices to be outlandish. The rest of the world is catching up and paying $500 K to $1 M for a home is becoming the norm everywhere.
The cruise was of course the center attraction. Mixing genealogy with pleasure was the greatest combination. The 145 people on the genealogy cruise all had the time of our lives, and we became great friends with our tablemates Ken and Lea, Loretta, Kerryn and Lois and our theatre-mates Ken and Barbara.
Now to sort through 2000 emails, 100 RSS feeds, 50 letters (snail mail), call and visit family, 3 weeks of newspapers and organize my 2000 photos and videos and a hundred leaflets from the trip, and I'll be back rolling again.