Day 2, Thu Feb 12 had a full day of sessions. Shauna Hicks started off the day talking about "Trove and other National Library of Australia Treasures".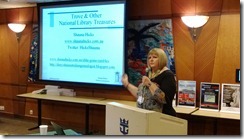 Helen Smith was always busy helping with the conference at the back of the room.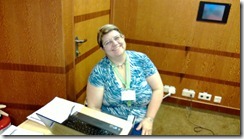 Jill Ball and Anthea Phillips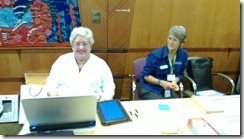 Natalya Mills, from Clean Cruising, the travel company that arranged our cruise, with her husband Adam.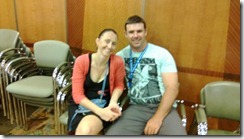 Alan Phillips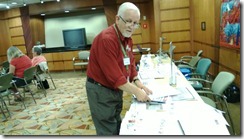 Paul Milner talking on "Buried treasures: what's in the English parish chest."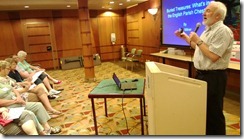 Paul always got a good crowd. He's a great speaker, very interesting, educational, and amusing.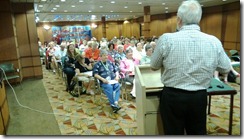 In the afternoon, I gave my "Why Behold" presentation. I didn't demonstrate Behold. Instead I gave the history and the concepts behind it, as well as new innovations I expect to introduce, It was well received.
I also had a draw for a free copy of Behold.Alona Tester was the winner.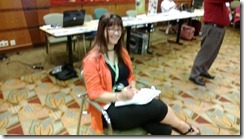 Rosemary Kopittke talked about Findmypast Australia.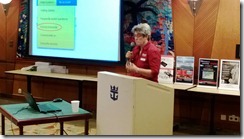 Helen Smith talked about One Name Studies. I wasn't going to stay for this one, but it was so interesting, I couldn't leave.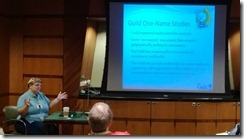 Jan Gow was talking about "The world with Ancestry: Let's Search the World in Our Pyjamas!".But we often had three talks at once, and I had to miss hers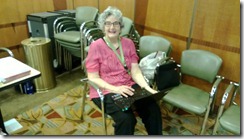 … to catch the end of Bob Velke's "The Master Genealogist: source citations and sentences."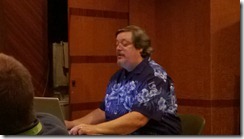 The next day, we arrived in Noumea, New Calendonia. We only had a minimum number of programs on our shore leave days.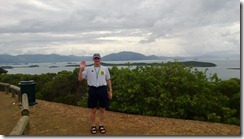 As it turns out, our ship had an electrical problem. We couldn't leave Noumea that day. So we stayed an extra day. Because of the delay, our journey on to Lautoka, Fiji had to be cancelled. Everyone was sad about that. With the electric failure of the Carnival ship in the Caribbean now happening, it is obvious we didn't want to take any extra chances.
As a result, we switched our minimal Friday Day 5 program (which would have been the Fiji shore leave) with our Thursday Day 4 program.
So tomorrow, we'll start 4 full days of sessions.