My schedule for speaking is perfect. I'm always on in the afternoon sessions, 1 p.m. to 4 pm. So technically, all my mornings and evenings are free. But I am going to attend other sessions of interest to me and also make an attempt to talk to as many genealogy people as possible.
My endeavor to get yesterday's blog post up successfully concluded at about 2 o'clock in the morning. Figuring out the wifi on the ship and getting the pics transferred from my phone to the laptop and even finding a place on the boat with wifi and a standard plug were problematic, but from here on in it should be easier.
As a result of the late evening, I didn't get to the conference until the 11 am sessions. There were three going on. Carol Baxter was presenting "Tracing your Ancestors in New South Wales" in room 1: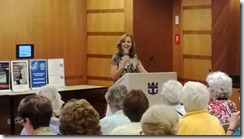 Shauna Hicks was presenting "Victorian Resources for Family History Research" in room 2: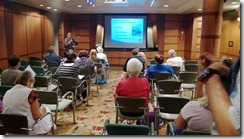 and Neil Bradley was presenting "Tracing your Ancestors in Western Australia" in room 3: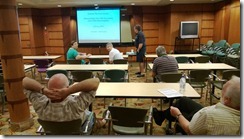 Unfortunately, all my ancestors are from Romania and Ukraine, so these didn't help me much personally. But the crowd is mostly Australian and was very interested.
In the afternoon, at the 1 pm session, I listened to Jan Gow on using Legacy, titled "Getting to Know Legacy: Just a Storehouse? No Way!!!".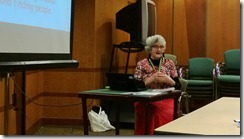 She had a wonderful presentation that very clearly emphasized the importance of sourcing and the need to make it as simple as possible or you won't do it.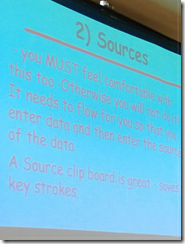 Next at 2 pm was my presentation on "Genealogy Software – Choosing and Using".  I didn't manage to take any pictures of myself presenting, but if I find one on another site, I'll add a link to it here.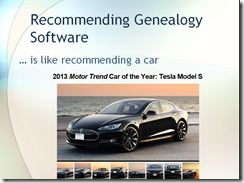 Following my presentation at 3 pm was Bob Velke with his first talk about The Master Genealogist. Bob had sat through my presentation way at the back left of the room, and hopefully enjoyed and agreed with what I had to say. I've always thought TMG is one of the most comprehensive genealogy programs available. And Bob had been a very hard worker to help try to advance GEDCOM and make data transfer better with his GenBridge process. I had a brief talk with Bob after his session and hope to meet with him for more later on.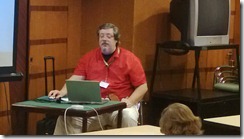 At one of the 4 pm sessions, Jill Ball did GeneaGoogling: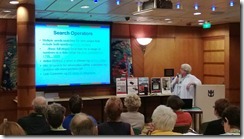 … and, of course, outside of the conference we're also enjoying everything else the ship has to offer.