Where do you go now if you have a question about Genealogy? Is there one convenient place where you can ask a question and almost immediately get answers from people trying to help you?
Before you read the rest of this post, if you feel you'd like to have such a site, then go right over to the Genealogy proposal at Area51 and sign up.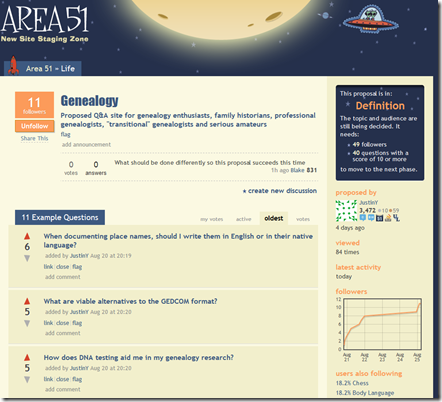 Area51 is where topics are proposed for Q&A sites on the StackExchange network. Currently they have 88 topics with 2.2 million users who asked 4.3 million questions and had 8.6 million answers for those questions.
I got involved about 4 years ago with the first site created: StackOverflow, which is a site for programming questions. Personally, I've asked 127 questions and got good answers to all of them. This has been tremendously useful in my work to program Behold. Often, when a Google search wouldn't find the answer to my problem, I'd post on StackOverflow and I'd get answers within minutes. Often, my problem would be solved within an hour. I've also helped others and have given answers to 202 questions by other people.
How many programmers are there in the world? Take a look at the question and some of the answers given at StackOverflow. Then look at the comments people make on both the question and the answers and how those add so much value and clarification. If you like a question, you upvote it. If you like an answer you upvote it. The best answers float to the top. The asker gets to choose which answer they want to accept and it gets a green checkmark. You gain "reputation" and "badges" for what you do, especially when people upvote what you do.
It's practically a social site. And it's also a friendly competition for reputation, where you learn to respect the answers of those who have more Rep than you. It is a lot of fun and somewhat addictive. But most of all, it is educational, interesting and provides you with fast answers to information you need.
The accepted answer to the programmers question was that there are about 12 million in the world. At StackOverflow, there are over 1 million registered users. That means 1 out of every 12 programmers in the world is at StackOverflow.
I think there are way more genealogists in the world than that. I think genealogists need answers to their questions just as much as programmers do. It's now our turn to take advantage of the offerings of the StackExchange people and get our very own Q&A site for genealogy. The only requirements are that we prove our mettle. We'll need to show that we can get at least a couple of hundred people to sign up, and then run the site in Beta and show that we can keep up a required level of interest. Should that be achieved, the Genealogy site will be added permanently to the StackExchange network, and we will have done something really great for the genealogy community. All of us will benefit.
This would be a Q&A site for genealogy, run independently of the interests of any genealogy company. It would be completely free for anybody to use.
If you have a genealogy newsletter or are a Geneablogger and are reading this post, please tell your readers and let's kick-start this thing. We need at least 200 people to sign up to get to Beta mode. Let's all work together and do this.
Disclaimer: I have no vested interest in this Q&A site whatsoever. I am recommending it because I truly believe having it would be a great thing for genealogists everywhere.