A few posts ago, I blogged about Family Group Sheets – Why and Wherefore? There I talked about how genealogists tend to use Family Group Sheets to organize and maintain their data, and how genealogy software programs have come to mimic that format.
Behold has also been following the general idea of the Family Group Sheet as well. Here is a snapshot of the information for a husband/wife in Behold 1.0.4. It is taken from the Stephen McCarthy Legacy.ged file that comes with Behold as a sample file:
Each "family" in Behold has been divided into three sections: one for the first spouse, one for the second spouse, and one section for the family information. In each section, all the "facts" and "events" pertaining to that person or that family are listed. Behold then adds links to the parents at the end of each person's information, and links to their children at the end of the family information.
The data is there. It works. It's dull. And, to be honest, it doesn't provide you any extra insight into the family than does a Family Group Sheet with the same information.
Well that's about to change. Version 1.0.5 of Behold, to be released very soon, is taking a concept I've been developing since Version 1.0 when I was asked if I could sort the events within each person by date. One thing led to another:
1. Sort events by date
2. Add ages onto dates
3. Merge family information into each spouse
4. Include parent life events
5. Include children life events
6. Include older and younger sibling life events
So what do I mean by "Life Events"?
A life event is some significant event of a parent, sibling, spouse or child that will usually have an impact on a person's life. Events included are:
Birth, Baptism, Christening, Confirmation, Bar Mitzvah, Adoption, Marriage, Divorce, Death.
Life events put a person's life into context.
Behold will be displaying every single person's life events in the Everything Report.
Whoa! What's going on here. Let's take a look at how things have transformed. This is what the same family in Version 1.0.5 of Behold will look like: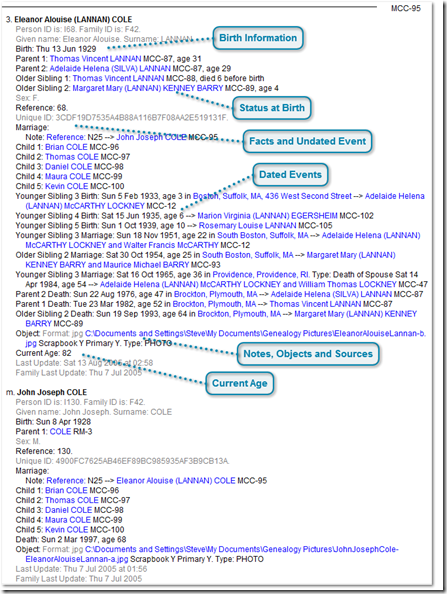 What we have is now like a mini-timeline of each person's life. With these simple changes, you will now get a really good feeling of what Eleanor Lannan Cole's life has been like. Follow along:
Eleanor was born in 1929 when her parents were 31 and 29. She had two older siblings. Thomas died 6 years before she was born, so she never would have known him, but his death might have been an influence on her parents and her family. Her older sister Margaret was 4 when Eleanor was born.
Some undated events (her marriage and children) follow. They would be listed correctly in time with the dated events if they were given a date in the GEDCOM file. But in this case, this lack of information forces you to only learn that she was married to John and had 5 children. This will give you impetus to estimate dates of her marriage and her children's birth (of course with your sources and reasoning) so that that they will be placed in context within her timeline.
Eleanor had 3 younger siblings: Adelaide was born when Eleanor was 3, Marion was born when Eleanor was 6, and Rosemary was born when Eleanor was 10. These ages sure put things in context for you. It is important to know the environment that Eleanor grew up in, with one older sister and 4 younger ones. Note that Eleanor's siblings places of birth would also be listed if they were given in the file.
When Eleanor was 25, her older sibling Margaret got married. When she was 36, her younger sibling Adelaide got married. At age 47, Eleanor's mother died, and at 52, her father died. Whoops, I see I also need to add her husband's death when Eleanor was 67.
Eleanor is still living and she's currently 82 years old.
Now. Isn't this a lot better? Let me know what you think.