#RootTech: It's Sunday morning on the 5:55 a.m flight out of Salt Lake City to Minneapolis. There are a number of other RootsTech attendees on this flight as I overheard some conversations including the words genealogy and FamilySearch. I'm blogging from the plane and I'll publish this post in between flights in Minneapolis.,
The official/unofficial closing "party" for Dick Eastman followers is Dick's dinner get-together. Over 110 people (you'll have to read Dick's post for the final count). We filled an entire room, with up to 10 at a table.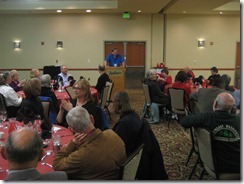 Dick had some wonderful words to say about the conference. He said this was the best he's ever been to, and when asked, he estimated that he's been to between 75 and 100 national or international genealogy conferences. Although there were bigger conferences in Europe, at 4400 attendees this was the largest conference he's been to in North America. The over 110 people at this dinner was also his largest post-conference dinner gathering ever.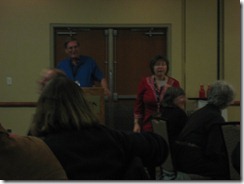 Up to now, I've only known Dick from reading his EOGN daily for the past 10 years. In person, I found him to be very friendly, enthusiastic and likable. He was interested in everything and everybody.
My table had very lively conversation and involved discussions. Next to me was Bart Brenner, one of the Behold users at the conference,,and his son Russell who was an engineer at Google working on the Android browser. In fact, my table had several computer-tech people and the conversation got to a pretty technical level. We took our table photo (below). Standing: Barbara Raemer, me, Russell, Bart, Capors McDonald; Seated: Patricia Hampton, Lynda McGinnis, Douglas Price, Jane Haldeman, Jane Wilcox. .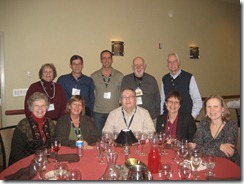 Dick asked people to put up hands as to where they were from. Only a handful were from Utah, a good number were from the east coast. Maybe 10 of us from Canada (which surprised Dick), a few from Europe, and then one New Zealand and one Australia. Dick gave a special honor to the New Zealander Jan Gow who received a royal commendation this year for her genealogy work. Jan was one of the other Behold users I had met earlier at the conference,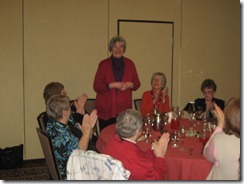 Dick then had some door prizes to give out, including 2 one-year subscription extensions to his EOGN newsletter. a portable scanner that came highly recommended, and the big one everyone was waiting for: an iPad. Along the way, I gave away 2 lifetime licenses to Behold, which, when Robert Burkhead`s name was drawn, had to go back into the pot because he was the other Behold owner here.
I said my last farewells to many of my new acquaintances I met at the conference that were at the dinner, including John Ralls, James Raleigh and Daniel Horowitz. I had a nice conversation with Richard Sherer, one of the Behold winners, as the two of us remained behind after everyone else had left. I`ll be very interested to hear Richard`s opinion of Behold after he tries it. Most people are looking for a new genealogy tool when they find and try Behold, but in Richard`s case, it`s been sprung upon him.
Back to the hotel by 10:30 to get up for this 5:55 flight and thus ends a very enjoyable and worthwhile 3 days.