Last day at #RootsTech.
It started with Tim Sullivan and his Ancestry.com panel of vice-presidents. This was live-streamed and well documented by others so I won't go into the details, but I have a few observations. Tim seemed to be a bit disappointed that FamilySearch's conference was one of the biggest genealogical conferences ever – I think they would sooner it have been an Ancestry.com conference instead.
But they went off to show their new technologies. The one question I really wanted to ask him was whether they would be cooperating with FamilySearch to do things together. I didn't have to ask, because in his closing, Tim said "Cooperation is good. But Competition is also good." To me he made it clear that they intended to compete head-on with FamilySearch. FamilySearch wanted to cooperate with all people, but Ancestry wants to get them first. If anything, I think the animosity is getting greater. It will be interesting to see how the next year unfolds.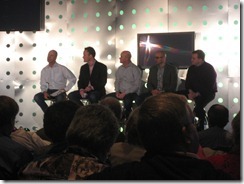 From there, I decided to take the next hour to see the last third of the Exhibition Hall. I had a wonderful conversation with Kaylene Thaler of The MagiKey. She and I were sharing developer stories, about our programming; genealogy; marketing life. There's a lot of work involved, but it's something we love.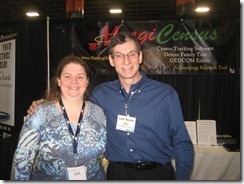 So I had 15 minutes left to the next talk I wanted to go to. I went to the Ancestry.com booth, and they had open access to their search on the computers there. For fun, I tried to look up my dead end (my father's step-father and first wife: Louis and Sarah Kessler) which was what I tried finding info about without success at the Family History Center. There were the 1911 Canadian census for them which I saw before. And there was the 1916 census which I hadn't seen before because I didn't expect any new info there. But to my surprise, the 1916 census gave their birth place as Ogec Russia !!!! Eureka! I'm off and running again. My blockade has been broken. Fun, fun, ahead!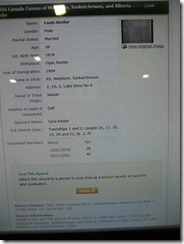 Off then to the big room to hear Ron Tanner on FamilySearch's attempt to make the FamilySearch Family Tree into the family tree of everybody in the world. This was live streamed as well. If you feel like hearing top-notch genealogical humor that would be more than good enough for Last Comic Standing, then watch the first half of Ron's crazy talk. He is great fun to listen to and enjoy – which was a great lead in to the 2nd half were he got reasonably serious and described how fantastic tools were being developed to help people update the everyone-tree with documented sources leading the way. The beta is underway and Ron gave his email address for those wanting to be Beta testers. Expect 4,000 emails in his inbox tonight. Hope he's in the cloud.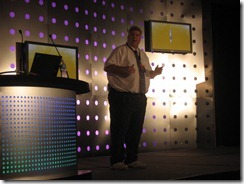 Next it was time to get ready for my Behold demo. Lisa Louise Cooke (Genealogy Gems) was up prior to me and I got to listen to her. Here's what I looked like for my demo, except I can't take a picture of myself and Lisa's a lot prettier than me.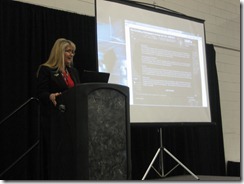 I had good turnout for my demo. Maybe 100 people watching. I only had 20 minutes, so you have to cut down a lot to get it in that time. I tried to find someone who had their GEDCOM file on them (a USB stick) but that didn't work out because her file ended not being up on either of the two sticks she gave me, so I lost a bit of my time in that process. None-the-less, I was introducing the concepts of Behold to everyone while setting up – which is hard to do concisely. The problem is that Behold has so completely turned things around with the concept of report-based data entry, that it takes 5 to 10 minutes to try to get everyone to think out of the box. I managed to try to get a few of the things that Behold does that no other program does presented fairly well. Specifically the idea that the parts of Behold's Everything Report are designed to help you do your genealogy and give you the information you need the way you needed. Add the future capabilities of export to GEDCOM 5.5.1 in version 1.5, editing in version 2.0 which will introduce source-based data entry, evidence/conclusion support, and future Mac, iOS, Android and Unix versions, and it sounds pretty impressive … even to me.
We drew for the two winners of a free lifetime license, and one was a Mac user who gave it to her friend (a Windows user). I stuck around answering questions for 45 minutes. Some people came by who hadn't watched the demo but because everyone was talking about Behold. I guess it went pretty well. I met one more person who had previously tried Behold: Sue Adams who came from the British Isles for RootsTech. We had a wonderful conversation.
That was a real high for me. I was pumped. Perfect way to end a conference. I just had one more seminar left: another perfect topic for me and good way to wind down. This was D. Joshua Taylor with "Software Forecast 2.0 – What Genealogists Need for the Future". Here's a young guy with a future. Just hired to head the North American branch of BrightSolid, and a good thinker – definitely quick to put ideas together upon suggestions. He did comment, however, on the "young" developers and "older" genealogists, which John Ralls and I had a chuckle about because we're both old enough to be Josh's parents, and he's the genealogist. Josh was an excellent talker, but not tremendously exciting. There were a few audience members nodding off after three long days. I was okay (even though I only had 3 hours sleep last night) because I was still pumped and running on adrenalin..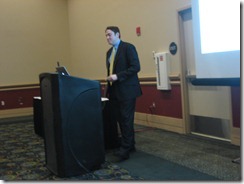 That was that. The finality of the packing up of the exhibition hall.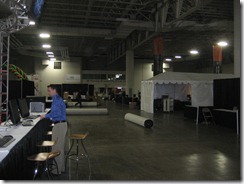 I walked back to my hotel (beautiful day – clear skies, no wind, and wonderful views of the mountains) to check my email and post this blog.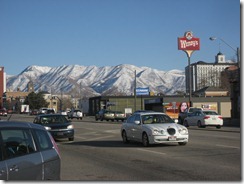 I have to post this and leave now. It's off to the Dick Eastman dinner. I'll be giving another copy of Behold away there. I'm curious to hear if there was any reaction to my demo. My plane leave 5:55 a.m. tomorrow, so I'm turning the computer off now, and won't be back on again until tomorrow night.
Great conference. So glad I came!