I've already got a very busy schedule planned for RootsTech. There are a lot of people I'll be looking for and will be trying to meet. Sometimes it's very difficult to find the person you're looking for among 3,000 people.
So I at least am going to make it easier for those who want to find me, to find me. I'll be wearing a special name tag that looks like this: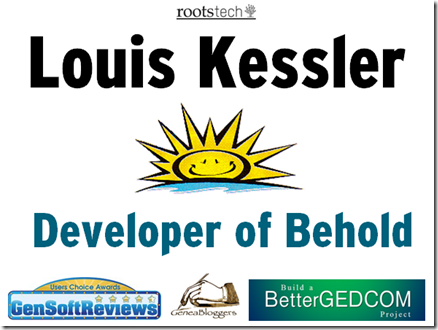 At the bottom, it also shows my other three affiliations: as the person who built and maintains the GenSoftReviews site and gives out its annual Users Choice Awards, as one of the GeneaBloggers (there are going to be at least 90 of us there), and as an active participant at BetterGEDCOM.
If all participants are required to wear a RootsTech badge, then I'll be wearing both. So the above badge is one way to find me.
Appearance-wise, there are no pictures of me on the web right now (but that might change after the conference). However, I wear glasses, and people have described me as looking like Leonard Nimoy (Mr. Spock of Star Trek).
So if you see me or see someone wearing the above badge, please come and say hello. I'm friendly. I really am.