It was 43 minutes into my 45 minute squash match. Dove out left to make a backhand reaching around my opponent. Snap goes the heel, like a rubber band. I knew that wasn't good as I'm there on the floor after successfully making the shot.
There was no pain. I tried to get up but as soon as I put my foot on the floor, it felt like my right heel was falling through the floor and then the birdies and stars would appear, so I picked my foot up quickly and it went away. "Could be a bad one", my opponent said. But still, no pain.
I hopped on my left foot to the showers, took a shower on one foot. Hopped to the lockers and changed. One of my squash buddies said he was going by our major Sports Medicine Clinic, and said he could take me there. I accepted his offer.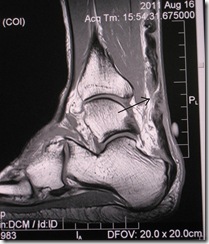 Three hours later, after the MRI was taken showing a full tear (also known as a rupture) of the Achilles tendon, I was asked whether I wanted surgery or not. I was puzzled and responded: "Do I need surgery?" "It's up to you", the Doctor said. I found that very strange. He explained that latest randomized studies show no significant benefit to surgery, but some people still believe it is better and want it.
The Achilles tendon in the MRI image of my foot at the right is the black "cord" at the back of my leg stretching from the top of the image down to the back of the heel. You'll notice it is twisted near the top like an elastic band that has recoiled after being cut. The arrow points to the rupture which is a lighter color because of the fluid that has entered the space where the cord used to be. The healing process is to keep the foot pointed downward about 20 degrees and immobilized so that the broken ends will be brought together and will then heal with scar tissue. If the surgical method is chosen, then they physically stich the two ends together, ensuring that the ends will not come apart during the healing process.
They placed a temporary back cast on my lower leg to keep it immobile and told me to come back in two days with my decision on surgery. They fitted me with my first ever set of crutches and taught me the basics of how to use them. E.g. stairs: good leg first up, bad leg first down. Two days later, I came back and put the surgeon on the spot and asked him based on my injury what he would recommend. He said to heal, it takes 3 months with surgery, or 3 months without surgery. Okay. No surgery then.
What happened afterwards was more than surprising to me. Our Sports Medicine Clinic is one of the most aggressive around. I was reading all over the web about people with Achilles tendon ruptures being non-weight bearing for up to 8 weeks and then in a walking boot for weeks after that. I had just 2 and a half weeks non-weight bearing in the cast and on crutches, and 6 and a half more weeks in the walking boot (sort of a cross between a big ski boot and a Star Wars Stormtrooper boot), starting with my foot at a 20 degree angle down, reducing down to flat a week ago. Yesterday, after my 2nd physiotherapy session, I was walking without the boot. There was a bit of sensitivity from the nerves in the bottom of my foot causing a bit of a limp, but that is rapidly going away. I've still got 4 more weeks of healing while the tendon strengthens back to 99%, and it'll be a few months after that before I attempt to play squash again, but I'm now just about back to normal after 9 weeks.
Why is that? I'm not exactly sure. I am very active and did walk a lot during my rehab – sometimes several miles. First on crutches where my arms got stronger than they've ever been. Then in the walking boot (an amazing invention I had to wear all day and night) that completely eliminates all pressure on the ankle area. I just had to be on my toes on my left foot when I walked in the boot to even myself up and eliminate the stress a limp would put on my right hip and left knee.
Also my legs are the strongest part of me. I was biking all summer, and I thought I was in the best shape in my life. That may have been my downfall. Biking hardens the Achilles, but squash requires a flexible Achilles for the quick kick-off. It may be that I didn't adequately warm up my legs prior to the match, or it could just have been one of those freak things that just happens.
The other surprising thing: During this whole time, I had no pain whatsoever. Zero. Nil. Zilch. My biggest worry was accidentally stepping on my left foot with my walking boot, which would have crushed it instantly and then I'd really have been in trouble.
If I had to do it over again, I'd kick off with my left leg rather than my right one. You'll get to drive much sooner with a left foot injury than a right one.