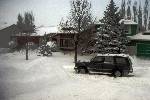 It started snowing yesterday at noon. And it kept snowing all night. This morning I woke up at 6:30 a.m. and there was a foot of new snow on the ground, on top of the 4 inches we already had.
So out I go to shovel my forty-foot driveway. Some places are only 6 inches deep, but others have drifted up to two feet deep. It's a matter of taking it one shovel at a time. As I slug through one shovelful, then the next, I'm thinking this is just like developing Behold. I know what the goal is, and it just takes work to get through it. Some parts are harder than others, but the more parts that get done, the closer you get.
A few hours later, I can admire my handiwork, and look at the 5 foot high mountains of snow at the sides of my driveway. A lot of places get more snow than Winnipeg, but when snow falls in Winnipeg in December, it is here to stay for the next three or four months.