I hadn't tried this one before. Have you?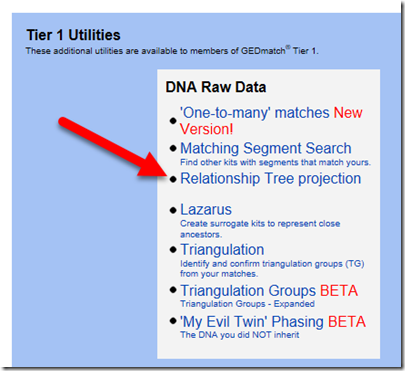 It's a Tier 1 tool, so you have to pay GEDmatch the $10 a month to use it.
What an imaginative innovative idea. They're using expected autosomal sharing and expected X sharing between two people to determine relationships and they show a tree for the two people. When I run myself against one of my closest X matches on GEDmatch (28 cM shared X, 42 cM shared autosomal) who I have no idea how I'm related to, after increasing the overlap from 1 (which gave no results) to 2, I get this:

What it tells me, is that using rules of how autosomal DNA and X-DNA is passed from parent of a given sex and child of a given sex, my shared amounts with this person most closely match the estimates for two relationships (as shown in the chart above). This person is most likely my 3rd cousin in one of these two ways:
My mother's father's mother's sister's son's daughter's daughter.

My mother's father's mothers' sister's daughter's son's daughter.
This doesn't preclude other ways that we could be related. I could increase the overlap to 3 and get more possibilities. But it does give some insight as to what the relationship might be.
At GEDmatch they say this tool is experimental. It's been around a few years and there is very little documentation about it. The best writeup I've seen is one by Israel Pickholtz in 2014.
How does it work?
Well that exact question was asked on my favorite Genealogy and Family History Question and Answer Site, and you can see my answer there.
Does the tool help? Well. I'm going to email that person, and ask her if her who her mother's father's mother and her father's mother's mother were and where they were from and see if they can connect to my mother's father's mother.
With regards to using relationship techniques like this in genealogy software like Behold or DNA analysis tools such as Double Match Triangulator, I have some ideas. Stay tuned.
—-
Update Jan 25:  I contacted the person administering the account who was an APG member administering lots of DNA kits. He pointed out that I didn't read the instructions correctly and entered the wrong values. It wanted autosomal and X values from the 1 to 1 tool and I used the values from the one-to-many tool. He also said the person I matched to was likely a generation different from me. That doesn't affect anything I say in the post about the tool, but only means it is using example input.
So I entered the correct values into the Relationship Tree tool and it now gave a single result, not too much different than what is in the diagram above. At 3rd cousins once removed, the line we might be related to is at least one generation further than either of us have been able to genealogically research.
None-the-less, try the tool. It may help you if both you and your match have genealogically researched enough generations back on the possible connecting lines.