Location: Houston Texas. About 200 genetic genealogists have gathered for 3 days of talks and mingling and discussion about the state of DNA analysis. It's very exciting for me to be with and talk to so many experts, each with a slightly different viewpoint and their own specialties in this field.
The day started with an early morning breakfast for those of us who had arrived in time. About 20 of us gathered at the Family Tree DNA breakfast buffet which we'll also be treated to for the next two conference days and the Monday following.
I tried to talk to as many new people I could find. Following breakfast and up to the evening, it was a matter of lounging in the main hall and attendees meeting each other as they came down. I talked with many people from previous conferences I had attended, including Curtis Rogers of GEDmatch who I first met at RootsTech in Salt Lake City in February, Karen Schlussel, Brock Shamberg, Adam Brown, Gil  Bardige, Shelley Talalay Dardashti and Bennett Greenspan who I met at IAJGS in July in Disney World, Mags Gaulden and Derrell Oakley Teat who I spent time with just a month ago in Halifax, and Judy Russell and David Pike from OGS in Toronto in 2016. I still have to talk to Maurice Gleeson who I met at OGS and will surely get a few minutes with him before the conference is over.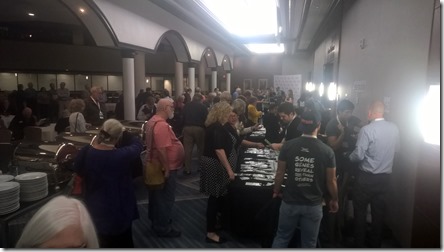 In the evening we picked up our lanyard and name badge along with our registration package which included a conference bag, a conference t-shirt, the conference program, and the book "Swabbed and Found" by Frank Billingsley who will be talking to us tomorrow about it.
I got to meet in person for the first time and spend time with Roberta Estes, Roberta's husband Jim, Jennifer Zinck, Jim Bartlett, Tim Janzen, Debbie Parker Wayne and Goren Runfeldt. Many of the staff from Family Tree DNA are here as well and it's nice to meet and talk to them.
Tomorrow will be a full day of sessions from 9 am to 5 pm.