Today is my Behold Blog's 15'th blogiversary.  My first blog post was on Thursday, November 7, 2002.
This blog post commemorating my blogiversary is my 1084th. I'm not as prolific a writer as Randy Seaver or James Tanner, but an average of 72 posts a year, more than one a week, isn't that bad.
Originally in 2002, I used a beautiful blog template by Eric Costello and manually entered my blog posts into the page.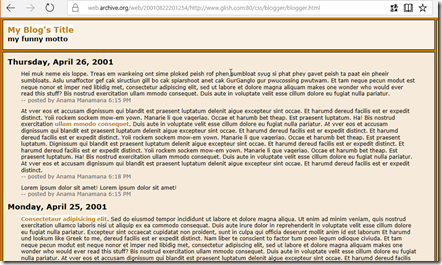 The template outline and background color morphed, and would slowly change from green to blue to red to brown to yellow to brown to purple to … It was such a lovely thing.
In 2004, once the page was getting fairly large with over a hundred posts, I unfortunately had to remove that unique color morphing because it was slowing down the page display too much.
In July 2004, I developed and added an RSS feed for the Blog.
One problem with my own home-built blog, was that there was no place for user comments. What's a blog without user interaction? So in December 2004, I opened up a separate discussion forum for discussion of my blog posts. I also developed an RSS feed for the comments.
In March 2005, the single blog page had grown too large. I archived all the entries as another page, still available, but started the blog page anew with new posts.
For years, I only put the date as the title of each of my Blog posts. A bit boring, wouldn't you say? I switched to descriptive titles in 2007.
In April 2008, after several months of work, along with the redesign of my www.beholdgenealogy.com site, I switched my blog over to Wordpress and customized the heck out of it so that it worked exactly as I wanted it. I moved all the archived posts and comments from the forum into the new blog.
In August 2008, I built a proper user forum for Behold using bbPress 0.8 and integrated its design and user information with my blog.
In December 2008, I was awarded a 2008 GeneaBlog Award by Tamura Jones for the title of "Deepest Genealogy Blog". He wrote: "It does not get more inside than this. Behold is not finished, yet Louis Kessler has been blogging about developing Behold since 2002. Subscribe to witness the birth of Behold version 1.0 real soon now, or just dig into years of posts about developing a genealogy program."
I don't remember when I joined Thomas MacEntee's GeneaBloggers group, but I finally added their logo to my blog in January 2012. In June 2017, I moved with everyone else to GeneaBloggers Tribe, after Thomas passed the service to a new group of enthusiastic blog promoting genealogists.
On November 24, 2006, I put up a nice post for my 50th birthday.
On December 31, 2011, I summarized the year after my 55th birthday.
On November 24, 2016, I put up a nice post for my 60th birthday.
15 years down. Umpteen to go.