Trying to write a flexible GEDCOM reader to read in every flavour of GEDCOM back to the early days is rather difficult when the standards used prior to version 5.3 from 1993 just aren't available anywhere.
I have scoured the Internet and the Internet archives for that matter, to try to dig up some of the early documents. In particular, I couldn't find any of these versions: 1.0 (1984), 2.0, 2.3, 2.4, 3.0, 4.0, 4.1, 4.2, 5.0, 5.1 or 5.2 (1992), some of which were said to be "Drafts" and some of which were said to be "Standards".
A few months ago, I started emailing some of the developers I know who have been using GEDCOM since the early days. I even contacted Bill Harten who led the team developing GEDCOM. He and some of the other developers told me they may still have an old printed copy of it somewhere, and if they weren't thrown out or eaten by rats, they might possibly be in some old box in their garage or attic that would take months to sort through and find. <Sigh>. It seems that GEDCOM 5.3 was the first version that made it to electronic form. All the other versions were hardcopy … until now.
Through correspondence with Diedrich Hesmer, the developer of Our Family Book and GEDCOM Service Programs, Diedrich contacted the members of his GEDCOM-L list where 24 German speaking genealogy software programmers communicate with each other. It turned out that one of his colleagues, Gisbert Berwe, the author of the program Gen_Plus, found he had a printed copy of GEDCOM 4.0. He scanned it and has now posted it on his website.
You can find Gisbert's PDF of GEDCOM 4.0 here:
www.genpluswin.de/gedcom/Gedcom_4.pdf
The first 12 pages of this document are not actually the GEDCOM standard, but are the Data Structure Description of the Personal Ancestral File program version 2.1, dated 23 June 1988. I think it is likely that these pages were at the beginning of the document, since PAF and GEDCOM were being developed at the same time by the Family History Department of the LDS. The 12th page appears to be a page Gisbert may have included by mistake, being a German family relationship chart, instead of page 12 out of 12 of the PAF structure guide. But that doesn't matter because the GEDCOM specs follow.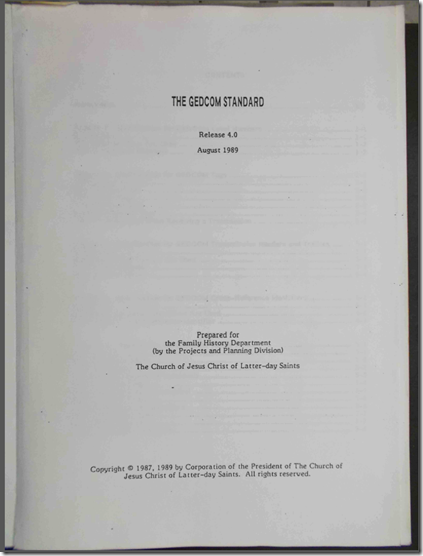 The GEDCOM 4.0 specifications follow in the next 96 pages. The sections include:
Introduction
Chapter 1: Specification for GEDCOM Level Numbers
Chapter 2: Specification for GEDCOM Tags
Chapter 3: Specification for GEDCOM Transmission Headers and Trailers
Chapter 4: Specification for GEDCOM Cross-Reference Identifiers
Chapter 5: Specification for GEDCOM Values
Chapter 6: Specification for GEDCOM Character Sets
Chapter 7: Specification for GEDCOM Transmission Media
Appendix: GEDCOM Tags
The Introduction is 2 pages. The first page of the introduction is missing from the scan and the second page follows page 1-1. I'll have to see if Gisbert could scan page In1.  The seven chapters are 35 pages, and the Appendix which contains an alphabetical list of the Tags and their definitions is 47 pages. Gisbert accidentally repeated the cover page and included it where page A-42 should have been.
In my initial scanning of the document, I had to admire the GEDCOM team's admission that the standard wasn't perfect. On page In2, they state:
Future Editions of This Document

GEDCOM is still new, and has not yet been exposed to demanding applications over an extended period. Changes will be made as necessary. Chapter five, "Specification for GEDCOM Values," will be updated to include format definitions for digitized photo, audio, and video information when the need arises and the required specifications have been completed. 
Bonus Document! PAF GEDCOM Specifications
I didn't expect what followed in the next 34 pages.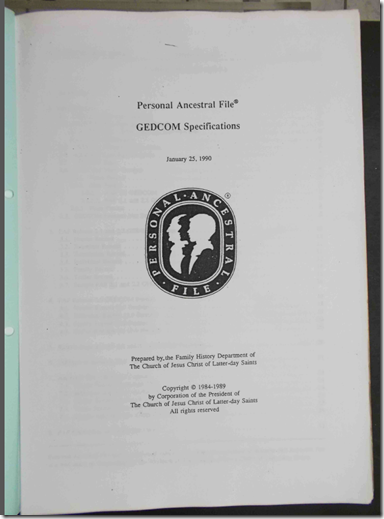 This document is not GEDCOM, but it details the implementation of GEDCOM in PAF Releases 2.0 through 2.2.
It states in its Introduction, Page 3 of 34:
"This document is necessary because many essential details about data structure and the use of tags in GEDCOM are specific to the implementation. In addition, the PAF 2.1 and 2.2 implementations differ from the PAF 2.0 implementation. PAF 2.0 was developed while the GEDCOM standard was still being refined. PAF Release 2.1 and 2.2 conform to the GEDCOM standards formally approved by the Family History Department in October 1987 (GEDCOM Release 3.0) and August 1989 (GEDCOM Release 4.0)."
In other words,
the PAF 2.2 implementation tells us more about GEDCOM 4.0,
the PAF 2.1 implementation tells us about GEDCOM 3.0, and
the PAF 2.0 implementation tells us about GEDCOM 2.0.
Wow! What a find!
Just like all archaeological digs, it will take time to study and analyze the details of these GEDCOM 4.0 and PAF GEDCOM Specifications before the lives of the early GEDCOMonians can be fully understood.