I am releasing a freeware program I am calling GEDCOM File Finder. You can find it at: www.beholdgenealogy.com/gedcomfilefinder
It's a nice little program that does just one thing: It finds and classifies all the GEDCOM files (or GEDCOM variants) on your computer. It is simple and only has one screen, allowing you to set the starting directory, filter the filename and include files that contain some desired text. Then it displays important information about the files it finds, and allows you to load any file with your default program that opens .ged files (usually your genealogy software), or let you use your default text editor to view the GEDCOM file directly.
You'll find it useful if you have more than a few GEDCOMs on your computer.
… or if you forgot where on your computer you put some of them.
You might be surprised and find a few files you didn't even know you had.
The interface looks like this: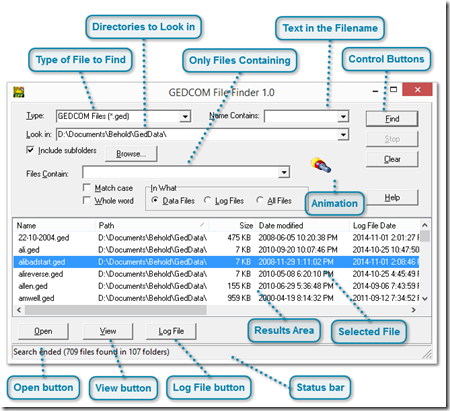 GEDCOM File Finder started off as the Find Files function in Behold. I developed it so that I could easily find some test files to test whatever part of Behold I was working on at the time. With over 650 GEDCOM files on my computer, it wasn't an easy task to find the best ones for testing. The Find Files function helped.
Important to me was to know specifics about the the different versions of GEDCOM and what made them tick. So I included this information on the right side of the Results Area that you can't see in the screenshot above. But it looks like this:


The information displayed about the specifics of each program includes new insights that were just recently discovered.
During the build up to the very enjoyable time I had at Gaenovium, I was putting my presentation Reading Wrong GEDCOM Right together. Tamura Jones kindly helped me review and investigate and refine my presentation – I think we went through over 8 drafts prior to presenting it. In so doing Tamura uncovered a lot of previously unknown information about detecting GEDCOM versions. He put this information together in a series of articles on his website, and at the bottom of many of them, he included some best practices. His new articles useful for interpreting GEDCOM files include:
This is some amazing work done by Tamura in a short period of time. So I took it to task and implemented many of the best practices that Tamura recommends in his articles, and that reflects in the information GEDCOM File Finder displays in its Results Area.
Now with GEDCOM File Finder, you'll have a program that should properly be able to identify as best as possible, the particular species of GEDCOM that your files belong to. And be aware, that your genealogy software may only be able to read something between most of the data (if you're lucky) and none of the data (if you're not) depending on what GEDCOM species it is trying to load.
If you have Behold, you'll find GEDCOM File Finder even more useful. It will also be able to list, find and view Behold Organize Files and Behold Log Files. You don't have to do anything to implement this. GEDCOM File Finder will detect that you have Behold installed, and will add those features for you.
Enough of this. Why don't you download GEDCOM File Finder and try it out for yourself. Maybe you'll find it useful. Freeware. Enjoy!