I've talked in the past about how I plan when I add editing, to make Behold one of the first genealogy programs to allow you to enter your sources directly, without the need to hook them up to the events that are attached to people. You'll be able to add your conclusions from these sources at a later time.
Behold has a convenient location, the Source Details section of the Everything Report, where these can be conveniently entered. It looks like this: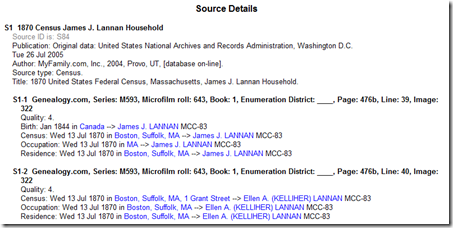 What Behold includes in the Source Details that other programs don't, are the events that each source refers to, with hyperlinks that take you back to the people and places. Those events will be automatically included once you add a source reference to an event, or alternatively (with source-based data entry), you should include them when you enter the source information.
One aspect of this that I'm really thinking hard about is how to make source-based data entry as simple and as efficient as possible. The trouble with entering sources one-by-one is that it is tedious. There are a lot of repetitive entries. And you cannot easily sort and view the data in different ways as you enter it. Even though I plan to have ribbon-controls and shortcuts to assist you, it will still take time and not be the pleasant task you want it to be tol encourage you to do it this way. However, it should not be anywhere near as horrible as forms-based data entry, which most programs use for everything. Ugh!
I know I'm still a ways away from giving you this. But, I'm always thinking ahead, trying to put together the right product that will help you the most.
I am very concerned about mass-data entry. How could this be made as efficient as possible? Entering lots of similar data, such as census forms or immigration records must be streamlined. There are all the one-name and one-place studiers who particularly are interested in hundreds or thousands of records at a time.
A few weeks ago, I rediscovered GenScriber when a second 5-star review for it was added on GenSoftReviews. GenScriber, or something like it, is a real solution to this problem. It looks like it is a spreadsheet, but it is not. It's an efficient data entry form that lets you see and manipulate your source image while you are entering it. You can sort and organize data columns exactly how you want. This is what GenScriber looks like:
Over the past week, I've communicated with Les Hardy, the developer of GenScriber. The program currently can input and output csv (comma delimited) files. But it could fairly easily be made to input and output to a database. Some hooks into Behold and into GenScriber could make it possible to get the two programs to work together so that they almost seem to be the same program.
I'm not saying right now that I will be doing this for certain, but it is a definitely possibility and something I will be considering once I start to implement source-based data entry into Behold.
If this sounds interesting, I suggest you try GenScriber. It is a free program, and Les Hardy is very receptive to comments. I notice that Dick Eastman discovered it a couple of days ago and beat me to this post.
Thinking ahead is always fun. But I better get back to today's work and finish version 1.1 so that Behold can move forward to the future.