A few weeks go by with no blog post, so it's time to update.
Haven't worked on Behold in the past few weeks. The main reason is that I was writing an 8 page "Genealogy Software Reviews" article for the Australian publisher Citrus Media who in August will be publishing Family Tree Magazine, a 100 page handbook for those beginning to research their family history. My draft is now in. It lists several dozen of the most often reviewed programs at my GenSoftReviews site.
Some of my research led to some very interesting tidbits that I didn't know:
Three programs were first released in 1984: Brother's Keeper, PAF, and Reunion. Alas, PAF passed away just 4 days ago. But happy 30th birthday next year to BK and Reunion.

Keith Wilson, the original developer of the iFamily for Leopard program passed away in 2008. But Warwick Wilson, Keith's son, has continued development of the program. I wonder how they'll record that in their family tree.

I was surprised that most of the programs I reviewed support Unicode. The only 4 that don't are: The Master Genealogist, Legacy Family Tree, Family Historian and Brother's Keeper. TMG and Legacy are stuck because of their FoxPro database. Family Historian and Brother's Keeper can both read and write UTF8, but internally they are all code-page applications. They'll all have to one day bite the biscuit and convert to Unicode if they want to keep up with everyone else.
Other random jottings:
RootsMagic version 6.3 introduces "Problem Alerts". Everyone's excited about this. Well, it's a start. But you still have to click on the alert icon to open a window showing the problems. And then you have to click on the problem to get to the person or family so you can correct it. That's still disconnected from the data you are editing. I feel the messages should be right there with the detail data you're looking at – not just on summary screens and not in popup windows. I'm in the middle of implementing this into Behold's Everything Report in what I believe is the right way. See my blog post from last November on Consistency Checking.

Other people are starting to agree with me that for most genealogists, formatting Citations according to a standard (whether Evidence Explained, a Bibliographic Standard, or EverNote references) is overkill. Really, all that is necessary is to record the information needed to find your source. That can be done with what GEDCOM provides today and in a few text fields. If a program wants to format your source information in a style, that is nice. But it shouldn't be a requirement. Besides, you're going to want to take these text fields and flip them around as you want, order by several of them and filter on others. You'll want to see the fields, not the pretty formatted text that has dropped the field names. The only people who truly need correct capitals and italics and commas in the right places are those writing academic papers. Enno Borgsteede just coined a new term for those people who think citations are mandatory as: "Citation fetishists".

Something big is supposed to be happening at FHISO on September 1. But I don't know what yet.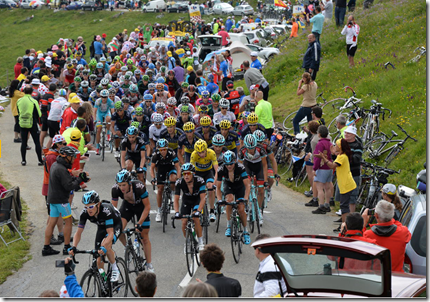 I've been watching the 100th Tour de France every day on television. Wow!