The last day of our onboard genealogy conference.
I woke up early, and went to the top deck of the ship and did what I call the Voyager of the Seas marathon. I went through all the decks and all the public spaces, both inside and outside, starting with decks 13, 14 and 15 and working my way down to deck 1. It took 95 minutes. I estimated I covered 9 km and even discovered a few nooks and crannies I didn't know about in all the previous days on the ship.
At 1 pm was Jan Gow on "Delving Deep in FamilySearch: Let's Forget About the Old – On With the New"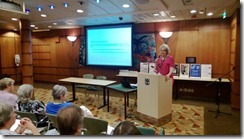 At 2 pm, I was part of a Social Media Panel with Shauna Hicks, Alona Tester, Helen Smith and was moderated by Jill Ball. There were 7 questions. 1. Your favorite social media tool (My blog). 2. How do you use social media to further your business. (My mailing list and forum). 3. Advice to a newbie. (For genealogy social media – try Google+, which got Jill jumping up and down in support of that). 4. What aspect of Social Media makes you grit your teeth (How to use all the venues without repeating yourself). 5. How does it help with your genealogical development (I follow blogs of those who are technical genealogists). 6. How do you fit social media time into your busy day (RSS feeds help save a lot of time). 7. How social media enabled you to connect to a relation or fellow researcher (Social media hasn't but my Family Research page has).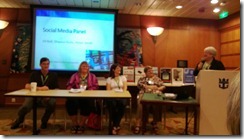 At 3 pm, I gave my lighthearted presentation on "Why Genealogy is Everyone's Solemn Duty".
At 4 pm, Stephen Dando-Collins presented "Captain Bligh's Other Mutiny and Pasteur's Gambit".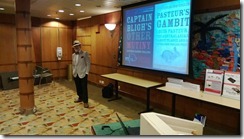 We went to our dining room (at 1,600 seats on three floors, it was the largest dining room in Australasia) for the last time.
In the evening we got together back in the Conference room for our Prize Draws and Windup. I gave away two copies of Behold.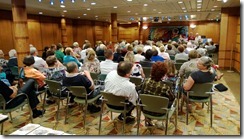 Various groups of us got together for pictures. The shot below is of all the geneabloggers.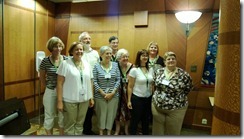 Thus endeth a wonderfully successful conference, and an amazing cruise.
Post mortem: My presentations will be available for a short time on my SkyDrive at: http://sdrv.ms/XZJKN2 – Note that I did tell some people that www before the sdrv.ms might work, but it looks like it won't. You have to leave the www off.
Here's a few quotes from the conference that I had noted:
A lovely cause of death from a document in one of Paul Milner's presentations: "gradual decay of the powers of life".
Bob Velke describing the flexibility of his program TMG:  "I give you enough rope to hang yourself."
Jan Gow on how genealogists do their cleaning. "They sweep the room with a glance,"
Today, I'm writing this from Sydney, the day after we disembarked. What are the odds that our Blue Mountains tour would include a stop at Featherdale Wildlife Park where my wife and I would run into Bob Velke and his wife? That was a Tasmanian devil of a thing to happen.