At 9 am, Paul Milner's talk was about "Occupation and Guild Records".
Paul always talked to a room-full of interested listeners.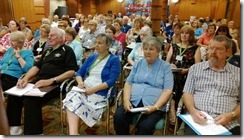 At 10 am, we all (145 of us) assembled on the majestic staircase of our ship's main dining room for a group picture. Below is a picture of the proof, since I don't have my scanner here with me. Unfortunately, I came from the 4th floor and got caught up at the top of the stairs on the left for the picture, and couldn't get into a better spot.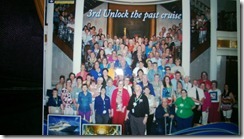 After the group picture, they got the organizers and speakers to get together for a picture. We had about 80 people of our groups photographing us for about 5 minutes. You'll find that picture up on Jill Ball's Geniaus blog post titled A Canister of Genealogy Speakers,
At 1 pm, I gave my talk about "Using Life Events and Ages to Solve Genealogical Information".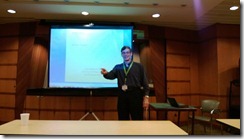 At 2 pm, Diane Foster, the only other Canadian in our group, presented "Genealogy and Family History, What is the Difference?"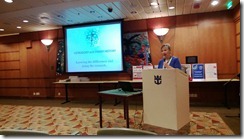 At 4 pm, I gave my 6th presentation: "Warning! Data won't transfer: GEDCOM Transfers."
It hasn't been all genealogy for me. My wife and I have also been enjoying everything the cruise has to offer.
The shows: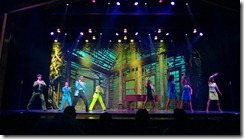 The sun: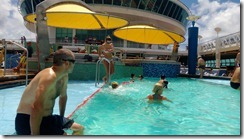 and the sumptuous delights: