On Day 6, I caught Shauna Hicks' presentation: "Warning, Warning: Tips & Tricks to Avoid Family History Mistakes".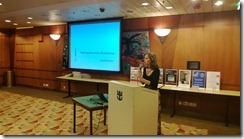 At 11 am, I gained further knowledge about writing an interesting family history with Carol Baxter's talk on "Writing Narrative Non-Fiction".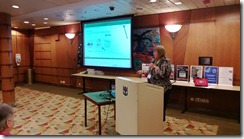 My wife and I shared a nice lunch with Paul Milner and his wife.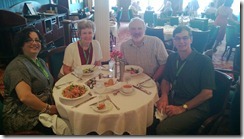 After lunch at 1 pm, I presented "Jewish Genealogy: What's Different and Where to Find It". I had just a small group of 8 for that, which was a nice intimate group that was extremely interested. Did you know, for example, that 16 of the original 1500 convicts that arrived in Australia were Jewish?
Next was Jill Ball giving an overview and demo of Family Historian.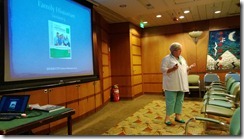 Before I left the room, Geoff Doherty started presenting "Oh, What a Tangled web…". But as I gathered up my stuff to leave, I was intrigued by his story of an Australian man who enlisted and then defected from the Boer war in South Africa at the age of 45 who happened to have two wives who found out about each other. I stayed to listen to the end.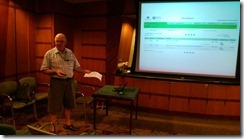 Next was my 4th presentation, this one on "GenSoftReviews". Those in the room were very interested in this. It seems everyone wants a suggestion of what the "best" genealogy program is. I of course told them that GenSoftReviews ratings is a very biased online poll, and does not give comparable ratings. But it will allow you pick out programs that its users like, and allow you to see opinions of the good and the bad about each program, including the one you are using today. I found it interesting that no one in the room was familiar with more than a handful of the multitude of programs available for genealogists.
I again neglected to get a photo of myself presenting. I've still got a few chances left to do that.
At dinner, the speakers and the Unlock the Past crew got together.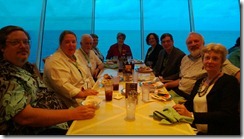 Remember, I'm only picking out what I'm doing at the Conference. We often have 3 lectures going on at once. The sessions are being very well attended, and the quality of the presentations are up to those you'll see at any land-based genealogy conference. The difference is you get 8 full days of this, plus a cruise to enjoy at the same time.
I heartily recommend you consider one of the genealogy cruises offered by the several companies that do so. It's a fantastic way to enjoy your hobby.