Back at sea, sadly heading back for Sydney, meaning the cruise is half over.
I have no talks to give today. My remaining 5 talks will be two tomorrow, two Sunday, and the last one on Monday.
So today I had a chance to listen and learn. As usual, I wasn't there early enough for the 9 am session. But I caught the tail end of Paul Milner's 10 am session on "Finding Your Ancestors in Ireland."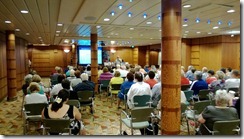 I spent my time at the back of the room, with the other bloggers and organizers as I wrote and posted yesterday's blog post.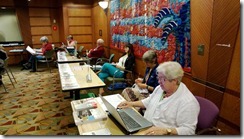 At 11 was Carol Baxter and her session on "Writing an Interesting Family History". I found this fascinating as I had never heard this topic presented before, nor read about it anywhere.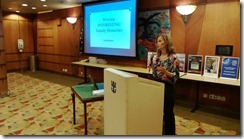 Carol has a book, suitably titled "Writing Interesting Family Histories", which I immediately purchased from her.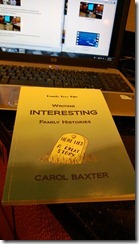 In the afternoon, I once again listened to Bob Velke, this time "TMG, Customizing Reports".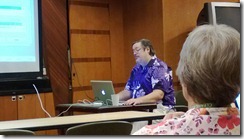 That was it for me this day. I spent the rest of the afternoon exhausting myself around the pools and hot tubs.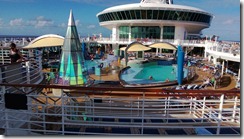 Of course, the day is always highlighted by our dinner seating at 6 pm where fellow genealogists Lea and Ken and Kerryn and Lois and Lauretta have become our good dining buddies. (Lauretta got leid twice in Noumea.)