Today we set sail. Wow!
Prior to supper, we met up with Helen Smith (a genea-blogger) and Alona Tester (also a blogger, and an Unlock the Past employee who is not so secretly the daughter of Alan Phillips). It's easy to identify each other by the green Clean Cruising lanyard we wear around our necks, which is a different color than all the other passengers have.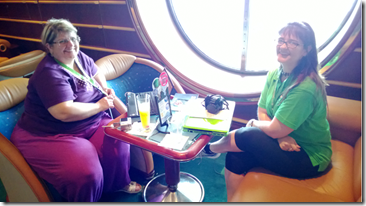 '
Our Unlock the Past genealogy conference group has its own set of tables assigned for the 6 pm session. Our table includes my wife Cheryl, Ken and Lea Harris of Newcastle, Kerryn Dixon-Ward and her mother Lois of Melbourne, and Lauretta Nobes. Cheryl, Ken and Lois are the non-genealogists at our table who came along for the ride.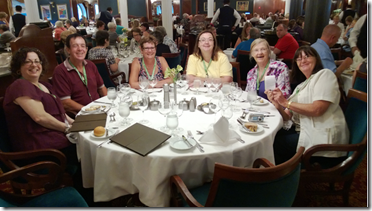 At 9 o'clock, we had a greet and meet in our Conference Centre. Most of the group attended. One out of every 20 people on the ship are here for genealogy (or tagging along with someone who is), so the green lanyard is not that uncommon.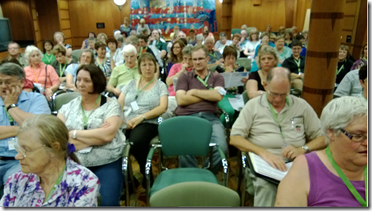 Our host Alan Phillips greeted the attendees. Helen Smith and Jill Ball said a few words.
It was nice to meet up with Jan Gow again, who I hadn't talked to since Roots Tech a year ago in Salt Lake City.
And then the Genea-bloggers who were there got together for a picture. There was Sharon (Fritz) Walker, Alona Tester, Lee-Ann Hamilton, Helen Smith, me, Linda Elliot, Paul Milner and Jill Ball. The one blogger we know is here but is missing from the picture is Shauna Hicks.
So that's really Day 1 of the cruise, but I'm calling it Day 0 of the Conference, since the Conference program officially begins tomorrow.