My wife and I are leaving tomorrow for Sydney Australia. We'll arrive on Tuesday and we'll be staying at the Swissotel until the cruise starts on Feb 10, and we'll be there again for a few days after the cruise ends on Feb 19.
If there are any Behold users that can make it to downtown Sydney while we're there, I'd love to get together with you. Maybe we can go to a restaurant for lunch or supper. Send me an email or leave me a message at our hotel and I'll try to get back to you.
We're looking forward to the change in climate. It's been –20 to –30 C here in Winnipeg over the last week. We've been as cold or colder than the South Pole on nine different days this winter.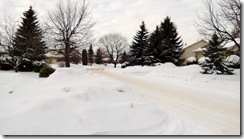 It doesn't snow much here, but it doesn't melt all winter. We've got 30 cm of snow on the ground and snowpiles 1 to 3 meters high at the sides of the roads.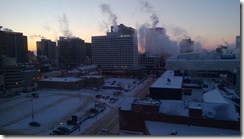 At –30 C., It's so cold, the warm exhaust air from buildings condenses into clouds.
Today was groundhog day. The groundhog in Winnipeg doesn't get a chance to see if he has a shadow or not. As soon as he comes out of his hole, he freezes solid.