The Dec/Jan 2013 issue of Internet Genealogy magazine includes as its title article: "Genealogy Software Update – Six popular program reviewed". Tony Bandy, a regular reviewer of genealogy software, provides mostly positive comments of all the programs in the mini-reviews in his 7 page article.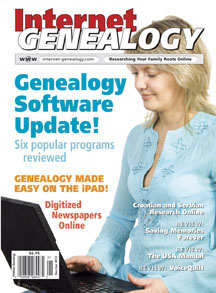 The article reviews these programs: The Master Genealogist, RootsMagic, Heredis, Family Tree Builder, and Family Tree Maker for Mac, and Behold.
Bandy says: "Standing out in a crowded field of 'me-too' software, Behold is a new approach to viewing and using your family genealogy. Having had a chance to use the program with my own research, I have to say it's worth investigating!"
He then describes what Behold does, some of the extras it includes, and of course, its limitation in that it currently does not edit your data. He does, however, then refer to Behold's Future Plans page and highlights some of what's coming.
He ends up saying: "For more information and reviews on the program, try the following sites:" and refers to Tamura Jones' review of Behold 1.0 and to Dick Eastman's post of my Behold 1.0 news release.
Bandy also lists two sites to help you find genealogy software reviews. The first site he lists is GenSoftReviews.
The publisher may have stretched it a bit in the subtitle on the cover to imply that Behold is a "popular" program along the lines of the other five programs. However, it is my goal to get it there.