Two weeks ago, I posted about a proposal to create a new Genealogy Question and Answer site. Today, the Definition Phase of the proposal was completed. Now the new site is in Commitment Phase and is looking for people willing to commit to use it.
If you'd like to participate (like me), I encourage you to go and sign up at
the Genealogy & Family History Q&A Proposal Site.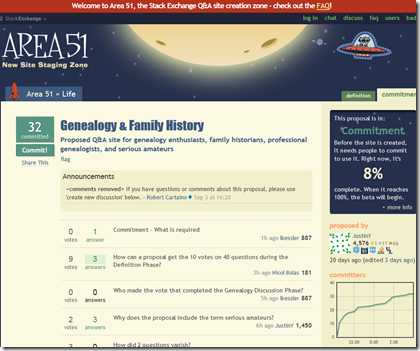 Click on the word "Commit" in the green box on the left, and then fill in the Commitment form:
You will get an email confirming your application and you'll have to click a link in the email to verify your email address before you will be included.
Then tell everyone you know who might want to participate in a free Q&A site that is independent of all genealogy vendors and organizations.
When the site gets enough committers (a few hundred), you will be sent an email to let you know that the trial (Beta) Q&A has been set up and you can start asking and/or answering questions.
You'll be getting in on the ground floor of something that, in a few years, I can see millions of genealogists participating in.
I've done this for several years on StackOverflow, the site for programmers that is on the same network – and I'll tell you it's been fantastic. I'm drooling at the idea of having the same thing for genealogy.
So once again, go to the Genealogy Q&A Proposal, commit yourself to use the site, and tell others to do the same.
—-
Bloggers, et al. Feel free to copy and use any or all of this post, and do please spread the word!